(CNN) -- Kevin Pietersen has resigned as England's Test and one-day cricket captain, with Andrew Strauss taking over for the forthcoming tour of the West Indies.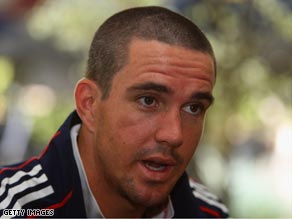 Pietersen's falling out with Moores was behind his decision to quit as England cricket captain.
On a dramatic day of rumors and whispers, Pietersen eventually released a statement confirming he was standing down as captain with immediate effect, although he will remain a key member of the England side.
Pietersen's decision follows revelations that his relationship with coach Peter Moores had completely broken down and, in a press conference later on Wednesday, the England and Wales Cricket Board (ECB) confirmed that Moores had also been dismissed from his position.
"Contrary to speculation in the press, I wish to make it very clear that I have not previously resigned as captain of the England cricket team," Pietersen's statement read.
"However, in light of recent communications with the ECB, and the unfortunate media stories and speculation that have subsequently appeared, I now consider that it would be extremely difficult for me to continue in my current position with the England team.
"Accordingly, I have as of this afternoon decided to stand down as England captain with immediate effect. Notwithstanding my resignation as England captain, I still fully intend to be a part of both England's Test and one-day international squad to tour the West Indies next month, and to do all I can to recapture the Ashes during the summer.
"I wish to add, I have principles in my professional and personal life on how things are done, and during my time as England captain I have always been both helpful and direct in my communications with the ECB, and at no time, contrary to press speculation, have I released any unauthorised information to the media regarding my relationships with the players, coaches and the ECB itself," Pietersen continued.
"I am extremely sad and disappointed to have to relinquish the captaincy at such an early stage, especially in a crucial year for English cricket and in such circumstances, particularly when I feel that I have much more to offer the England team as captain.
"However, this decision will not affect my determination to continue playing international cricket for England, doing all I can to win matches for the team and supporting whoever captains the team in the future."
Don't Miss
Soon after Pietersen's announcement, Hugh Morris, managing director of England cricket, told a news conference: "The England and Wales Cricket Board have late this afternoon accepted, with regret, the resignation of Kevin Pietersen as England captain.
"Kevin recognised that in the present situation it was impossible to restore the dressing room unity, which is vital, if England are to win the forthcoming tour to the Caribbean, the ICC global events or regain the Ashes in the npower Ashes Test series.
"Kevin Pietersen is highly valued as a senior and experienced player and we are delighted that he has indicated he wishes to continue to represent England in all their forthcoming international fixtures, starting in the Caribbean later this month."
Morris added: "I have an extremely high respect and regard for Kevin Pietersen but this has become an impossible situation given the irretrievable breakdown of the relationship between captain and coach.
"With regard to Peter Moores, the board determined that he should relinquish his role as England team director. I have the greatest respect for the dignity which Peter Moores has shown in recent days when he has found himself under extreme pressure. The ECB wish him well in his future roles.
"I would also like to thank him for his contribution as England Team director and his work as National Academy director.
"Andrew Strauss has agreed to lead the team to the Caribbean. He led the England team with distinction in 2006 when Michael Vaughan was injured.
"The Board will announce the coaching set-up for the Caribbean tour as soon as possible and will embark on an immediate search for a coach who can provide England with the best chance of success in the coming years."
South African-born Pietersen only took over the job at the end of last summer, but reports of a rift with Moores surfaced at the weekend.
He gave hint of the problems between himself and Moores in a published report in the News of the World on Sunday.
"This situation is not healthy, we have to make sure it is settled as soon as possible and certainly before we fly off to the West Indies," he was quoted. "Everybody has to have the same aims and pull in the same direction for the good of the England team."
England depart for their four-Test Caribbean tour on January 21 and have two further Tests against the West Indies before the crucial Ashes series against Australia later in the summer.
Pietersen was given the England captaincy at the back end of their losing series to South Africa last summer. He proved an immediate success, leading England to a fine win at The Oval and a clean sweep of the one-day international series.
Subsequent results have gone against him, with a humiliating defeat in the Stanford Super Series and five straight losses to India in a one-day series.
The Mumbai attacks brought that series to an early close before England lost the first Test against India from a winning position and drew the second.
Ashes-winning captain Vaughan, omitted from the West Indies tour because of fitness concerns, is in no doubt the England and Wales Cricket Board have chosen wisely in giving the job to Strauss.
"If there is one man who can get the England team to gel and bring the players together after weeks or even months of damaging rumours, it is Andrew Strauss," Vaughan wrote in his Daily Telegraph column.
"In the 18 months since Peter Moores took over as coach the results have not been good -- but I think Strauss will be a very, very good captain.
"Such a decent man can bring back maturity and stability to the England team."
Vaughan's omission from the squad to face the West Indies was reportedly the issue which pushed Pietersen and Moores' disagreements to an unworkable level.
Pietersen is thought to have wanted his old captain back in the ranks -- a policy resisted by the selectors in his absence.
Vaughan still hopes that somehow Wednesday's drama can help England move forward. "It may be that everything happens for a reason and things will turn out the best for English cricket," he added.
"What Kevin has to do now is go to the West Indies and score a hundred in the first Test - then all the controversy will be forgotten."
E-mail to a friend