(CNN) -- Carlos Sainz confirmed his status as favorite for the Dakar Rally with another victory in the fourth stage of the race in Argentina on Tuesday.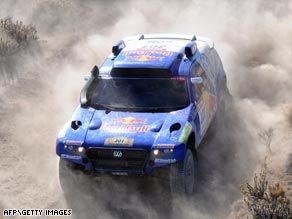 Spain's Carlos Sainz is firmly on course to take the Dakar Rally title after another stage win.
Spain's race leader and former world champion completed the 488-kilometer stage between Ingeniero Jacobacci and Neuquen in three hours 42 minutes and 57 seconds.
Sainz was six seconds better than Qatari racer Nasser Al-Attiyah who is three minutes 46 seconds adrift in the overall standings.
"We started well and very quickly. We soon caught up with Nasser Al-Attiyah. When he realised it was us, he counter-attacked and we both continued to race at a very speedy pace, until I was able to overtake on an off-track section," said Volkswagen racer Sainz.
"However, just afterwards, I started losing air from a slow puncture. I had to stop and pump it up and was regularly losing tire pressure right up until the end of the special stage."
Qatari Al-Attiyah said: "Carlos Sainz overtook me just before we reached the 100-kilometer mark. After that, I followed on his tail and we raced up to the finish.
"It's not a problem that he won the stage. It's even a good thing for me that he will be leading the way for a stage where there should be sand dunes."
Frenchman Luc Alphand (Mitsubishi) finished in third position, 1.17 behind Sainz, to climb up to eighth in the overall standings.
Marc Coma (KTM) seems unstoppable among the motorbikes as he celebrated his third victory out of four special stages, crossing the line in 4:09.32. Holder Cyril Despres finished in second place, one minute 17seconds behind.
Coma leads overall, 42min 57sec ahead of American Jonah Street, who finished third, four seconds behind Despres.
British driver Paul Green and his co-driver Matthew Harrison both remain in serious condition in hospital following their accident in the first stage of the Dakar Rally.
The Team Desert Xarrior duo were hurt on Saturday when their Rally Raid UK car flipped over in the city of Trenque Lauquen.
Juan Enemeterio, chief doctor of the Hospital Modelo of Santa Rosa's intensive care unit, said: "Green took a heavy blow to the thorax and the spinal column. There are hopes of recovery, but we'll wait 24 hours to see whether he can be moved to Buenos Aires.
"He is connected to a respirator, and his condition is serious."
Harrison remains in an induced coma, having also suffered a thorax injury.
E-mail to a friend