(CNN) -- Twice world champion Carlos Sainz grabbed the lead in the Dakar Rally with victory in the second special stage in Argentina on Sunday.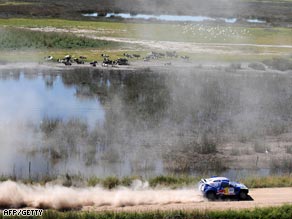 Sainz has grabbed the lead in the Dakar Rally after victory in the second special stage.
Sainz, who is chasing his first Dakar crown, completed the Santa Rosa-Puerto Madryn stage in in one hour 56 minutes 14 seconds in his Volkswagen for an overall four hours 34 minutes 46 seconds.
"It was a very difficult stage with all the dust and the bikes," Sainz told PA Sport. "At times, we nearly had to stop. I even hit a biker at one point. I hope he's going to be okay."
Nine-time Dakar champion Stephane Peterhansel (Mitsubishi) finished the stage 1 minute 14 seconds adrift of the Spaniard to take third overall.
Today's third-placed driver, VW driver Giniel De Villiers was third and second in the standings, two minutes 19 seconds behind Sainz. Saturday's first-stage winner Nasser Al-Attiyah (BMW) came ninth, slipping to fourth overall.
Dutchman Frans Verhoeven was first over the line in the motorcycle section in the Argentinian province of Chubut. He clocked 2:14.48, only 41 seconds ahead of two-time Dakar winner and champion Cyril Despres of France.
Marc Coma, 17th on Sunday, still heads the overall standings with 5:13.32, nearly 14 minutes ahead of Verhoeven.
E-mail to a friend