(CNN) -- Andy Murray beat world number one Rafael Nadal to win a money-spinning exhibition tournament in Abu Dhabi.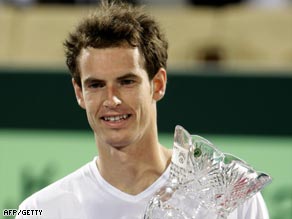 Murray will be hoping to get his hands on many more trophies in 2009.
The three-set 6-4 5-7 6-3 victory in Saturday's final will not count for the official rankings, but world number four Murray will take heart ahead of the first grand slam of the season in Australia later this month.
He beat former world number one Roger Federer in an exciting three-set semifinal on Friday and earned $250,000 for beating Spain's Nadal in a thrilling encounter.
The tournament attracted three of the top five players in the world rankings, with only reigning Australian Open champion Novak Djokovic missing as Murray served notice of his threat to the established order this season.
Murray's only victory over Nadal in six previous meetings had come in the semifinals of the U.S. Open last year, but an early break put him in charge.
Nadal broke back immediately only to lose his service again in the ninth game with the British number one wrapping up the set on his own delivery.
The second set followed a similar pattern with Murray achieving the breakthrough in the fifth game only for Nadal to retrieve it again.
But this time it was Nadal who got the second break as Murray hit a forehand long at 5-6.
Murray appeared to be tiring, having played an extra match to defeat James Blake in the quarterfinals in the six-man event, but in a evenly matched encounter broke through in the seventh game.
He consolidated to take a 5-3 lead and when Nadal found the net in the next game completed victory.
"It was a tough match. He made me do a lot of running and in the first game of the year you're going to feel it a bit, but I thought it was a great match from both of us," Murray told Sky Sports.
Nadal clearly recognized Murray as a major contender at Melbourne Park.
"I congratulate him on his victory. He has a good chance to win in Australia."
Nadal, who missed the Masters Cup through injury was also pleased to have come through a three-hour match.
"It was a very good test," he said. "My body is perfect right now, I'm very happy for that."
E-mail to a friend