By Breeanna Hare
CNN





(CNN) -- Dan Brown could not have written a more suspenseful plot if he'd tried.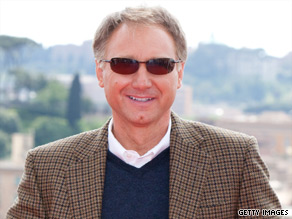 Author Dan Brown says he's a skeptic, not a conspiracy theorist.
The anticipation for "The Lost Symbol," his follow-up to 2003's "The Da Vinci Code," runs so high that copies of the book have been locked behind a chain-link fence and placed under 24-hour guard at Amazon.com.
Brown's publisher, Doubleday, has refused to ship advance copies. The appetites of readers have been whetted with tweeted clues and "Today" show scavenger hunts. Not a single plot twist has been leaked during Brown's five years of research, a feat that even "Harry Potter" creator J.K. Rowling couldn't pull off.
All the public knows at this point, six days before the tome hits stores, is that fictional Harvard symbologist Robert Langdon will scour the streets of Washington to uncover the capital city's secrets in just 12 hours. How Brown will make 12 hours stretch to fill 528 pages is yet another mystery. Before you can even crack the sequel's cover, you're already embroiled in a cliffhanger.
"With the clues and puzzles that have been provided by the publisher, there's been a lot of activity on the blogosphere about what this could be. It gives the opportunity to create that kind of community discussion. Everyone likes to out-puzzle everyone else," said Patricia Bostelman, vice president of marketing at Barnes and Noble.
The bookstore chain has already sold tens of thousands of "Lost Symbol" copies in pre-orders, both online and in stores. The secrecy surrounding the book plays no small part: "It can build the customer's anticipation of the book very effectively," she said.
So when Brown's novel actually arrives on shelves, booksellers are expecting a frenzy normally reserved for tales of teenage wizards and the romantic musings of the undead. It's become so frenetic that some are calling September 15 "D-day," for Dan Brown, of course.
But will the book be any good? There hasn't been a single review, and anyone who has followed Brown's work has witnessed the criticism his literary colleagues have heaped upon his books.
It doesn't matter, said Jim McCarthy, a senior literary agent at Dystel and Goderich Literary Management.
"This book is completely review-proof. There isn't much of a precedent for a book being as successful as 'The Da Vinci Code,' " he said, "so ['The Lost Symbol'] is going to sell itself. The level of excitement and suspense will drive people to the bookstore."
That's certainly what the publishing industry is hoping. Booksellers around the world are preparing for the customer windfall, from St. Helen's Book Shop in St. Helen, Oregon, holding a midnight release party to South Africa's Exclusive Books holding a pre-sale competition. The grand prize just for ordering your copy of "The Lost Symbol" in advance? An all-expenses paid trip for two to Washington.
In Pittsburgh, Pennsylvania, however, Brown fever hasn't quite hit. Joseph-Beth Booksellers, which has five locations in the United States, including its Pittsburgh outlet, had pre-sales for "The Lost Symbol" as early as late April.
Much to the store's surprise, "pre-sales have been unexpectedly low, with a total of three," marketing manager Maureen White said. "We weren't expecting a ton, but the pre-sales haven't quite been what we were hoping for." The store stocked 75 books for Tuesday's release, White said, because the bookstore tends to get a rush at the last minute.
It's a rare contradiction to the expected demand publishers believe will singlehandedly turn around the industry's recent dismal book sales. If you use "The Da Vinci Code" as a barometer, though, those predictions aren't far off the mark.
Brown's 2003 novel sparked a firestorm, both in controversy and in profits. The novel sold more than 80 million copies worldwide, more than the entire "Twilight" saga. As a result, "The Lost Symbol" has an anticipated audience of remarkable size. The book is not only the top seller on Amazon.com's U.S. Web site before its release date, but it also leads the English-language best-seller list on Amazon's UK and German sites.
Despite the hoopla, the author of the best-selling hardcover adult novel of all time told Parade magazine he's "just a guy who tells a story."
"I was already writing 'The Lost Symbol' when I started to realize 'The Da Vinci Code' would be big," Brown said. "I temporarily became very self-aware. Instead of writing and saying, 'This is what the character does,' you say, 'Wait, millions of people are going to read this.' It's sort of like a tennis player who thinks too hard about a stroke -- you're temporarily crippled."
Brown got over his creative paralysis after the hype over "The Da Vinci Code" began to die down, and he was able to return to crafting a world of symbols and secret societies that have sparked international attention. But despite what his artistic process brings to the page, he's careful to note that he's not a conspiracy theorist.
"I am much more of a skeptic," he told Parade. "I think one reason my books have found mainstream success is that they're written from a skeptical point of view."
Literary agent McCarthy has a slightly different take on it, and thinks part of Brown's mass appeal is his ability to create a book that can engage just about anyone. "He's a brilliant plotter," he said. "People aren't buying the book to be dazzled by the writing. The fact that the content is exciting and easy to read is enough."
E-mail to a friend