By Lisa Schwarzbaum





(Entertainment Weekly) -- If you're interested in actor Marlee Matlin, you'll want two questions answered before deciding whether to read her memoir, "I'll Scream Later":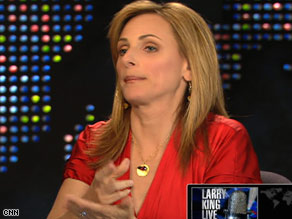 Actress Marlee Matlin appears on CNN's "Larry King Live" to talk about her sexual abuse.
1. What does she say about her relationship with William Hurt, her former lover and costar in "Children of a Lesser God," for which Matlin won a Golden Globe and an Oscar in 1987?
2. Why does she want to scream?
The answer to the first is easy: Yes, yes, good Lord, yes, Matlin can't stop talking about Hurt and their passionate, turbulent, at times violent relationship.
For instance, "We made amazing, mind-blowing love. And we fought." Good to know. And also, "No matter what triggered our fights, they were made far worse by his drinking and my drug use."
Got it. Mr. Hurt no doubt sends his regards.
The answer to the second is more complicated -- something to do with Matlin's being deaf in a hearing world, and being headstrong and wild, and receiving news of her Oscar nomination while dealing with drug addiction (at the age of 21) at the Betty Ford Center.
This memoir, dutifully wrestled into order by L.A. Times film critic Betsy Sharkey, is more ramble than holler, but Matlin clearly enjoys making some noise.
EW Grade: C+
E-mail to a friend

CLICK HERE to Try 2 RISK FREE issues of Entertainment Weekly
Copyright 2009 Entertainment Weekly and Time Inc. All rights reserved.