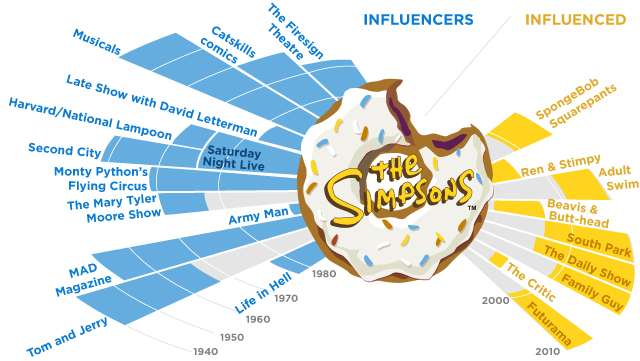 STORY HIGHLIGHTS
"The Simpsons" has drawn from many aspects of pop culture

Second City comedy troupe, MAD magazine among influences

"South Park," Adult Swim owe something to "The Simpsons"

(CNN) -- It's probably not stretching the point to call "The Simpsons" a distillery of all things pop culture. After all, what other show has managed to work in comedic references to Tennessee Williams, Ayn Rand, Alfred Hitchcock, "The Great Escape" and bombastic Broadway musicals, all in one episode ("A Streetcar Named Marge")?
However, in doing so, "The Simpsons" stands on the comedic shoulders of many that came before -- and has influenced countless works that have arrived since. Here are just a few of the roots of the "Simpsons" comedy tree and the branches of those it gave life to. (The following, illustrated by the doughnut at the top of the story, is by no means complete, and each member has its own, sometimes overlapping influences.)
Thanks to Tony Hendra's "Going Too Far" for inspiration and cartoonist Art Spiegelman for having his fingerprints all over the place. Main story: Is it time for "The Simpsons" to "g'oh"?
ROOTS
Tex Avery, Chuck Jones and "Tom and Jerry"
"The Simpsons" borrowed its manic pace (not to mention the inspiration for "Itchy and Scratchy") from these 1930s and '40s animation pioneers. Avery and Jones were two key Warner Bros. animators who gave that studio's cartoons a breathlessness (and, in Jones' case, a cultural sheen) much emulated by others. And MGM's famed "Tom and Jerry" may have gotten friendlier over the years, but these Hanna-Barbera cartoons began on a much more violent note.
MAD magazine
The great humor magazine began as an offshoot of William M. Gaines' horror comic empire and -- after the horror comics were shut down -- became his cash cow. Thanks to the Usual Gang of Idiots, which included (among many) Will Elder, Harvey Kurtzman, Al Feldstein, Don Martin, Mort Drucker, Dick DeBartolo, Frank Jacobs, Jay Kogen, Al Jaffee and dozens of others, no aspect of American life was above (or beneath) satire. You were being conned, the magazine said; protect yourself. (MAD, like CNN, is a unit of Time Warner.)
Second City
The Chicago, Illinois-based improvisational and acting troupe gave a start to performers who later joined such shows as "Saturday Night Live" and "SCTV" and inspiration to improv groups all over the world. It also bred an attitude of "yes," the key word in any improv workshop: In other words, see where an idea takes you, no matter how outlandish.
Catskills comics
Jewish humor may not be as present on "The Simpsons" as in Mel Brooks movies or "Seinfeld," but every "Oy" from Krusty the Klown leads back to Jackie Mason, Shecky Greene and Grossinger's.
Musicals
"The Simpsons" has always had a fondness for musicals, whether they be Broadway parodies or something deeper. Indeed, Sideshow Bob's love for the erudite reference (in one episode, the "Simpsons" villain performed the entire score of Gilbert & Sullivan's "H.M.S. Pinafore") may reflect that of the "Simpsons" writing staff.
"Monty Python's Flying Circus"
The Oxbridge humor of John Cleese, Eric Idle, Terry Jones, Michael Palin and Graham Chapman (ably assisted by Yank Terry Gilliam) combined high and low in then-unfamiliar ways, such as a panel show of famed Communist leaders being asked the name of Britain's 1959 Eurovision Song Contest winner.
Harvard/National Lampoon
The longtime college humor magazine has provided a home for writers including George Santayana, John Updike and "Simpsons" scribe Conan O'Brien and spawned offshoots including parodies of "The Lord of the Rings" and Time magazine. In 1970, the magazine agreed to license its name to some graduates starting a national humor magazine; in turn, the National Lampoon became the most influential humor publication of the 1970s.
The Firesign Theatre
Philip Proctor, Peter Bergman, David Ossman and Phil Austin's work expanded the range of comedy albums by incorporating studio tricks, double and triple entendres and constantly overlapping puns and cultural references into a stew of hilarity. Sound familiar?
MTM Productions
"Simpsons" producer James L. Brooks cut his teeth at Mary Tyler Moore and Grant Tinker's production house, which created such legendary sitcoms as "The Mary Tyler Moore Show," "The Bob Newhart Show" and "WKRP in Cincinnati," and groomed the careers of people who created "Taxi," "Cheers" and "Frasier." MTM's high standards put the writers first, a blueprint "The Simpsons" has followed.
"Life in Hell"
Matt Groening's strip, filled with bleak humor and crude drawings of neurotic rabbits and inexplicably happy fez-wearing men, began as a self-published comic book in 1977. By the mid-'80s, the strip was a favorite of alternative newspapers. In style and attitude, it became a jumping-off point for "The Simpsons," though "Simpsons" writers and producers such as Sam Simon honed the humor.
"Late Night with David Letterman"
Perhaps the most influential comedy show of the '80s prided itself on its anti-talk show, absurdist outlook, which included entries such as "The 360-Degree Show" (the frame made an entire 360-degree loop during the broadcast) and an episode in which the audience voted on individual pieces (the opening credits were aired over clips from an old Sears catalog).
Army Man
"Simpsons" writer George Meyer founded "America's Only Magazine" in 1988. Though just three issues were published, it proved to be remarkably influential. Several Army Man contributors, including Meyer, Ian Maxtone-Graham, Jon Vitti and John Schwarzwelder, ended up on the staff of "The Simpsons."
BRANCHES
"Ren and Stimpy"
John Kricfalusi's cartoon owes more to Tex Avery and Bob Clampett than "The Simpsons," but its manic energy and wonderful non sequiturs -- "Happy, Happy, Joy, Joy," anyone? -- found a following partly thanks to the cartoon renaissance kicked off by the Fox show. The two shows didn't not get along, however; Kricfalusi criticized "The Simpsons' " writing, and the latter got back with some well-aimed jokes.
"Beavis and Butt-head"
Creator Mike Judge credits "The Simpsons" for helping turn him towards animation, and this MTV hit -- about two teenage slackers with a fondness for heavy metal -- was one result. Another, "King of the Hill," was a direct beneficiary of "Simpsons" success, as it followed the show on the Fox schedule for a time.
"The Critic"
The early '90s was full of attempts at "Simpsons"-style new animation, including Steven Bochco's "Capitol Critters" and the underground comic-inspired "Fish Police," but "The Critic" was the first from members of the show's own staff. However, the series, featuring a hapless movie critic voiced by Jon Lovitz, failed to find the breakthrough audience the networks were hoping for (it aired on ABC and Fox) and was canceled after its second season.
"South Park"
Comedy Central hit it big with this crudely animated show from the no-holds-barred team of Matt Stone and Trey Parker, which began as some of the first Internet viral videos and has since become one of the network's biggest hits. Now in its 13th season, the show -- featuring Cartman, Stan, Kyle and the ever-dying Kenny -- remains brazen, topical and outrageous.
"Futurama"
Matt Groening and "Simpsons" writer David X. Cohen created this show about a pizza delivery man who wakes up in the 31st century. It ran for four years on Fox and then was rerun on Cartoon Network. More recently, the show has put out four standalone movies and will be returning as a weekly program on Comedy Central in 2010.
"SpongeBob SquarePants"
Nickelodeon's highest-rated show, about a good-natured sponge who lives in Bikini Bottom, is a throwback to the old-fashioned big-studio cartoons of the '30s and '40s: sweet enough to be appreciated by children but with enough cleverness to be enjoyed by adults. "The Simpsons," of course, has attracted a generation of viewers with bright colors and funny voices, only to hook them with its satire later on.
"Family Guy"
Seth MacFarlane's wild show, about a family with a talking dog and villainous baby, is testament to the power of DVD: Though it was canceled after three seasons, DVD sales and strong ratings for reruns led to it coming back on the Fox schedule, where it's in its eighth season overall and has spawned "American Dad!" and "The Cleveland Show."
"The Daily Show"
Though it probably has more in common with topical satires such as "That Was the Week That Was" and "Not Necessarily the News" than "The Simpsons," the two shows have shared writers (notably "Daily Show" executive producer Josh Lieb) and a mocking sensibility. With its stablemate, "The Colbert Report," it's probably the leading comedy series of recent years -- inviting yet another generation to question authority, become jaded cynics and laugh about it all.
Adult Swim
This offshoot of Cartoon Network -- like CNN, a division of Time Warner -- specializes in shows, many animated, directed towards an adult audience. Entries such as "Aqua Teen Hunger Force" and "Squidbillies" owe a particular debt to "The Simpsons," though by now "The Simpsons" is so established in the culture that the influences are second-hand.
FOLLOW THIS TOPIC