Oprah to visit White House, interview Obamas for holiday special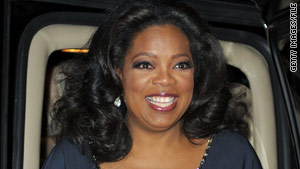 ABC will air Oprah Winfrey's "Christmas at the White Housel" on December 13, her Web site says.
STORY HIGHLIGHTS
Oprah Winfrey to interview president, first lady next month for TV special
Hourlong special also to showcase holiday preparations at the White House
Winfrey recently said she will stop hosting syndicated show in 2011
(CNN) -- Oprah Winfrey will interview President Obama and his wife, Michelle, next month for a 60-minute program to air before Christmas, the talk show host announced Wednesday.
"Christmas at the White House: An Oprah Primetime Special" will air at 10 p.m. ET December 13 on ABC, her Web site said.
"The intimate, informative and entertaining hourlong special will include a one-on-one conversation with the president, marking the first time Oprah has interviewed him since he took office, as well as an exclusive sit-down interview with the first couple," it said.
The special "will showcase behind-the-scenes preparations as the White House gets ready for the holiday season," the Web site said.
Winfrey, who supported Obama in his presidential bid and this month interviewed defeated GOP vice presidential candidate Sarah Palin, recently said she will stop hosting her syndicated talk show in 2011 to focus on launching an Oprah Winfrey Network.
FOLLOW THIS TOPIC