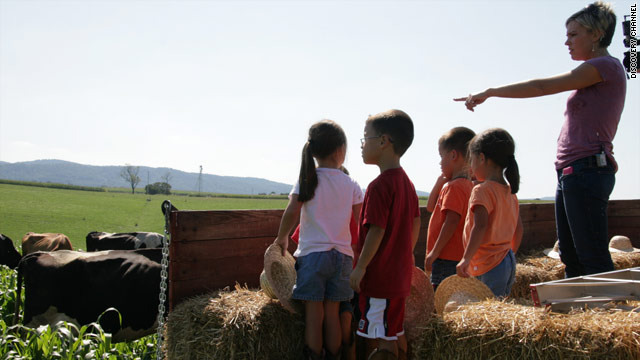 STORY HIGHLIGHTS
TLC's popular reality series "Jon & Kate Plus Eight" aired its series finale last night
Jon Gosselin called an end to the tapings through a cease and desist order against the show
"This is a very bittersweet goodbye...the kids are already missing it," Kate Gosselin says
(CNN) -- Jon and Kate Gosselin closed out their "Plus Eight" series Monday night with more of a whimper than a bang and plenty of whining, bitterness and blame.
The series finale opened with a shot of a sign posted on the couple's property declaring, "No film crew or production staff from TLC is permitted on this property under penalty of Trespass," signed by Jon.
Jon had called an end to the tapings through a cease and desist order against the show, for what he said was the benefit of his children.
"This is a very bittersweet goodbye for me because the kids are already missing it," Kate Gosselin said. "Our show has provided opportunities that we wouldn't have otherwise had. I feel like it's been taken from us. From me and the kids. I don't like ends. I don't like goodbyes. It's needless; it's useless. It was totally avoidable."
Jon Gosselin seemed to bask in his new freedom from the show, and from Kate.
"Our marriage fell apart, and I felt like I was free," Jon said. He dismissed the past eight months, during which tabloids and newspapers chronicled his string of new girlfriends and partying, by explaining that he believes he was sowing his wild oats. "I got married at 22, so maybe I reverted to 23," Jon said.
Kate Gosselin admitted being concerned about her estranged husband's motives.
"I do worry about his intentions and his motives for things," she said. "Is this a publicity stunt? What is the bottom line of it? So I don't like when my kids get caught in the crossfire of that stuff."
The kids don't know about their father's love life, she said.
"They don't know about girlfriends at all. That's just too warped for them," she said. "That relationship is just a situation that is a symptom of the real issue, so I don't envision a future there involving my kids."
In the finale, Jon and the kids are setting up a lemonade stand to raise money for a local fire department, but the couple's older daughters, twins Mady and Cara, are moody with Jon.
"They are doing more talking back," Jon said to the cameras. The bickering reaches such a fever point that Jon bans the girls from the event, saying, "I think both of you should stay home. I'll sell lemonade."
The show then follows Kate taking the kids, minus the moody twins who were in school, to an organic dairy farm, trailed by the paparazzi.
"I never had a clear picture of how it would end, but I think it's too soon," Kate said. "It's sad it's cut short...it's been a great run."
"Jon & Kate Plus Eight" began in 2007 and chronicled the trials and tribulations of a young couple struggling to raise twins and sextuplets in Wernersville, Pennsylvania.
The show experienced a ratings spike earlier this year, when rumors of Jon and Kate's personal struggles began to surface and they admitted they were separating. The fifth season premiere drew a record 9.8 million viewers, but ratings soon began to drop with subsequent episodes bringing in only a quarter of the viewers.
The finale ended in a photomontage of the Gosselin kids growing up and Jon and Kate in the early years of their marriage.