STORY HIGHLIGHTS
Oprah Winfrey confirmed on her show Friday that the 25th season will be the last
She said she loves the show enough to know when to say goodbye
She is incredibly thankful for the viewers who have invited her into their lives
She promises that the last season will "knock your socks off"
(CNN) -- Oprah Winfrey knows how to keep viewers on the edge of their seats.
Knowing that viewers were tuning in to her Friday show to hear the queen of talk confirm that the "Oprah Winfrey Show" was coming to an end, Winfrey had not one, not two, but three guests on before finally announcing that the end for "Oprah" had arrived.
In other words, it was business as usual.
In an interview with Bradley Lockhart, whose 5-year-old daughter Shaniya Davis was found dead on the side of a North Carolina highway Monday, Winfrey provided the kind of heart-wrenching interview that she is known for.
Lockhart and his sister, Carey, sat down via satellite for their first television appearance since the news broke about Shaniya.
"My heart and the country's heart bleeds for you," Winfrey told them.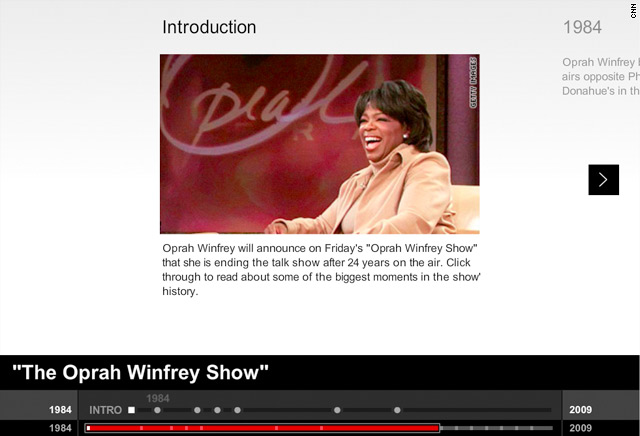 "The Oprah Winfrey Show"
Winfrey's show has often been that national voice. When she covered the topic of mad cow disease, the nation's dairy farmers watched sales plummet; when she selected James Frey as an author to watch and later admonished him, the nation went right along with her.
Rumors are that Winfrey will move her show to the Oprah Winfrey Network (OWN).
"Oprah has been nourishing people through her television show for nearly 25 years, a legacy that has touched millions the world over," Christina Norman, CEO of OWN, said in a statement. "She is the life force behind OWN and will be guiding the effort for this completely new 24-hour television experience premiering in January 2011."
But on Friday's show, Winfrey was still focused on providing her viewers with the best daytime TV possible.
Lockhart, who said he's doing the "best he can" at this time, leaning on the support of friends and family, told Winfrey that he was "never concerned of Antoinette caring for [Shaniya] as a mother." Winfrey said she hoped to talk with Davis herself, to "find out what was going on in her life."
Winfrey segued from real-life atrocities to those portrayed in the Sundance Film Festival hit "Precious," which opens nationwide today. (She's an executive producer of the film.) She invited Gabourey Sidibe, who plays the lead role in the unsettling film about a pregnant, illiterate Harlem teen abused by family members, to assure the world that who she is in "Precious" is not who she is in real life.
"When I first saw you in the film, I couldn't imagine that that wasn't who you really were," Winfrey said of Sidibe's untrained talent. "And now I realize that you're this superb actress because your story is nothing like her story."
Winfrey, who felt "split open" after watching the film in a private screening, promised director Lee Daniels that she would do whatever she could to help him. She gave her golden name to the film as executive producer and played no small part in getting the movie national attention.
After talking with Sidibe about everything from her fairly average upbringing in Harlem to how the young actress cultivated such unshakeable body confidence, Winfrey urged her audience to attend the film.
"I know that there are a lot of 'Twi-harders' out there," she said, referring to fans of "New Moon," which also opens nationwide today, "but go see it with your sister, your mother, your friend ... it will crack you open."
Delaying the inevitable announcement even longer, Winfrey tapped comedian Ray Romano for her last segment about his upcoming series, "Men of a Certain Age," premiering in December.
Ironically, the conversation turned to what it was like for Romano when his nine-year run as a sportswriting TV dad came to an end in 2005 on "Everybody Loves Raymond."
After the show ended, Romano said, he started going to the therapist more often, battling depression. "For nine years, it was an extended family of mine," he told Winfrey. "It was my bubble, and it was just [over] overnight."
When she asked the comedian if it was hard to walk away from being the highest-paid actor on television, he joked, "there was somebody making a little bit more," looking pointedly at the host.
But in all seriousness, he said, "I wasn't driven financially at that point." Winfrey, whose net worth is estimated by Forbes to be $2.3 billion, agreed that she, too, was beyond hosting a talk show for financial reasons.
"I don't make any decisions based on money either," Winfrey said. "Thank God I don't have to."
In the last 10 minutes of her show, she confirmed that the syndicated "Oprah Winfrey Show" will cease on September 9, 2011.
"After much prayer and months of careful thought, I thought that next season, season 25, will be the last season of 'The Oprah Winfrey Show,' " she told the audience.
"You may hear a lot of speculation in the press about why I'm making this decision now, and I wanted you to hear it from me," she said. "Twenty-four years ago on September 8, 1986, I went live from Chicago to launch the first show. I was beyond excited, and a little nervous.
"I knew what a miraculous opportunity I had been given, but I certainly couldn't have imagined the yellow brick road of blessings," Winfrey said, pausing as she became visibly and audibly choked up. "You, the viewers, have enriched my life beyond measure. You have graciously invited me into your kitchens, living rooms and lives. Some of you have literally grown up with me; we've grown up together.
Whether you've been there in the beginning or just started last week, I hold it dear, she told her audience. "It still means as much to me to spend an hour with you as it did in 1986."
And then, the answer to the most obvious question: Why leave the show?
"Here is the real reason: I love this show, this show is my life, and I love it enough to know when it's time to say goodbye. It's the perfect number, the exact right time," she said.
"Oprah is a legend and a ground breaker. She paved the way for so many people," Wendy Williams, a media personality who hosts her own talk show, said in a statement. "I certainly couldn't be where I am today, hosting my own daytime talk show, if she hadn't come before me, so I'd just like to thank her for that and wish her all the best in her new endeavors."
Winfrey encouraged her fans to stick out the next 18 months with her, as she and her production team pull out all the stops to make the last season of "Oprah" one that will "knock your socks off."
"The countdown to the end of 'The Oprah Winfrey Show' starts now," she said. "Until that day, I intend to soak up every meaningful, joyful moment with you. I'll see you on Monday."