Letterman extortion suspect's lawyer seeks dismissal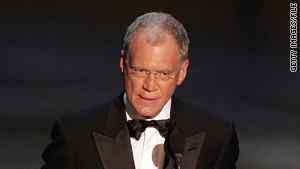 "Late Show" host David Letterman said he was the victim of an extortion plot.
STORY HIGHLIGHTS
NEW: "This was a commercial transaction, nothing more," lawyer says
CBS producer appears in Manhattan federal court
He is accused of extorting $2 million from TV host
Authorities say he threatened to reveal Letterman's dalliances with staffers
New York (CNN) -- A CBS producer accused of trying to extort $2 million from "Late Show" host David Letterman appeared in a Manhattan courtroom Tuesday, where his attorney filed a motion seeking a dismissal of the indictment against him.
Attorney Gerald Shargel, who represents Robert Joel "Joe" Halderman, challenged the constitutionality of the laws in question in the 34-page document.
Judge Charles Solomon said he will rule on the motion in January and set the next hearing for January 19. Prosecutors have until December 15 to respond to the motion.
Halderman, 51, of Norwalk, Connecticut, is accused of telling Letterman in September that he would disclose the funnyman's sexual dalliances with female staffers unless he paid up. The 27-year CBS veteran, most recently a producer for the network's news magazine, "48 Hours," was charged with first-degree attempted grand larceny and suspended from his job.
He pleaded not guilty to the charge last month, but prosecutor Judy Salwen told the court that the evidence against him is "compelling" and alleged that he was trying to "destroy" Letterman's reputation and "humiliate his family."
Shargel, however, said last month that his client is the father of two children, ages 11 and 18, has an "impeccable reputation" and denies the allegations.
"There was no extortion," Shargel said Tuesday. "This was a commercial transaction, nothing more. [Letterman's] celebrity is why we are here today."
He said there will be no compromise in the case.
Letterman attorney Daniel Horowitz agreed, saying, "this case will proceed to trial. He said Letterman "is prepared to testify and is determined to see this to the end."
Solomon extended a protection order barring Halderman from contacting Letterman, although Shargel may speak to the television host.
Shargel said Halderman is doing pretty well emotionally, although he has lost weight. Asked about interviewing Letterman, he said, "anyone out of law school for more than 15 minutes would be anxious to interview Letterman."
Manhattan District Attorney Robert Morgenthau said Letterman had given Halderman a $2 million check and Halderman deposited the money into a Connecticut bank account the day before he was arrested.
Halderman has been released from jail on $200,000 bail.
CNN's Laura Dolan contributed to this report.