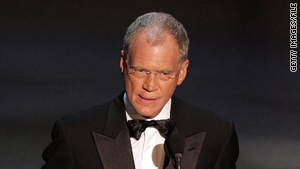 Former "Late Night" writer Nell Scovell says another writer noticed "extra attention" David Letterman paid her.
STORY HIGHLIGHTS
Former "Late Night with David Letterman" writer Nell Scovell said she felt demeaned at the job
She says "Late Night" was her dream job, but sexual politics played role in her departure
Scovell said part of the problem is gender inequality in late-night talk show writers' rooms
Writer describes atmosphere on Letterman's show on "Joy Behar" tonight, 9 ET on HLN
Watch as a former writer for David Letterman joins Joy Behar in a prime time exclusive and describes the "sexually charged atmosphere" on the set of the show. "Joy Behar," tonight, 9 ET on HLN.
(CNN) -- The persistent sexual politics behind the scenes at late-night talk shows is far from a joke, believes former "Late Night with David Letterman" writer Nell Scovell.
Scovell was the second female writer ever hired for "Late Night" when she got the job in 1990, two years after she'd applied.
In 27 years, "Late Night" and its current iteration, "Late Show with David Letterman," have hired only seven women, Scovell said said in a tell-all essay on VanityFair.com. She was unavailable for comment.
The talk show was a dream job for the writer, who had penned an episode for "The Simpsons" by the time Letterman called. But when she walked through the doors of 30 Rockefeller Center, she realized working at "Late Night" wasn't the career move she'd hoped for, she wrote.
Scovell said she was well aware that Letterman and other "high-level male employees" were rumored to have sexual relationships with female staff members, whom she believed benefited professionally from their office affairs. Needless to say, the work environment was rife with tension.
"Did these female staffers have access to information and wield power disproportionate to their job titles? Yes," Scovell wrote. "Did that create a hostile work environment? Yes. Did that make me feel demeaned? Completely. Did I say anything at the time? Sadly, no."
Although Letterman never made a pass at her, Scovell said that the host did show enough "extra attention" that it was noticed by another writer.
After a few months, she'd "seen enough to know that I was not going to thrive professionally in that workplace ... although there were various reasons for that, sexual politics did play a major part."
CBS did not have a comment as of Wednesday.
But Scovell believes the issue of female employees on late-night talk shows extends past the boudoir and straight into the writers' rooms, which in her view are simply wittier cousins of other high-paying positions facing gender inequality.
"I don't want compensation ... I don't want revenge," she wrote. "I just want Dave to hire some qualified female writers and then treat them with respect. And that goes for Jay and Conan, too."
There are no women writing for the Letterman, Jay Leno and Conan O'Brien shows, Scovell said, and it's not because there aren't any who are interested in applying.
"[Women] certainly don't [apply] in the same numbers as men. But that's partly because the shows often rely on current (white male) writers to recommend their funny (white male) writers," she wrote. "I'm also aware of several worthy females who have submitted material and never heard back."
She wonders if women aren't on the staffs because male writers believe they would throw off the workroom dynamic.
"[Men] want to be able to scarf an entire bag of potato chips while cracking fat jokes and making lewd comments without fear of feminine disapproval," she said. "But [women writers] are co-workers, not wives. Crack a decent fart joke and, as professionals, [women] will laugh."
Scovell said she isn't calling for the talk shows to relax their standards, but rather "give feedback and encouragement" to submissions and "post submission-packet requirements on Web site[s] so everyone has equal access."
She admits it won't happen overnight, but Scovell still holds on to her dream. "One day," Scovell said, "a late-night writer's room will be filled with poop jokes and fart jokes ... and everyone will laugh, including men and women of all creeds and colors."