DirecTV's Spade-Farley ad criticized as in poor taste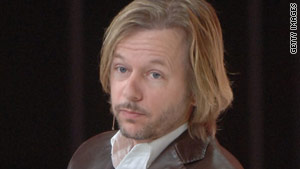 David Spade starred in "Tommy Boy" and "Black Sheep" with his friend and colleague Chris Farley.
STORY HIGHLIGHTS
DirecTV advertisement features the late Chris Farley in "Tommy Boy"
Commercial has elicited negative response from some viewers
David Spade views it as homage to friend and reminder of Farley's talent
DirecTV said Farley's family was behind the commercial, viewing it as a "tribute"
(CNN) -- DirecTV has raised a ruckus by raising the dead.
The satellite TV company has relied on dead celebrities to push its satellite television packages -- last year's "Poltergeist" ad starred the late Heather O'Rourke, for example -- but the cable company's latest promotion featuring Chris Farley in "Tommy Boy" has stirred up fresh controversy, with many believing that the ad was done in poor taste.
The 30-second spot features Farley, who died in 1997 of heart failure because of an overdose, in the infamous "Fat Boy in a Little Coat" scene from the 1995 comedy that co-starred David Spade.
The commercial looks like it was taken straight from the film reel, until Spade starts promoting DirecTV while Farley carries on his routine in the background.
"Great, I'm here with tons of fun, but I could be at home with DirecTV," Spade says in the commercial. "It never gets old," he says after Farley busts the seams on the too-small jacket.
What some viewers find especially shocking is that Spade, who wrote in a 1998 Rolling Stone article that he didn't attend Farley's funeral because he "couldn't be in the same room where Chris was in a box," went along with the promotion.
When Gawker.com's Defamer blog wrote about the ad, it earned the hashtag "bad advertising," with the post addressing both Spade and the holders of Farley's estate as "sleazebags." Over on WalletPop.com, the advertisement is called "a monstrous lack of judgment."
TVSquad is none too happy about it either, believing that the ad is "unfunny and not very clever," and questions whether it's "too soon" to run an ad featuring Farley and "why Spade even agreed to do it." Entertainment Weekly said it can't decide whether the advertisement is "a sweet homage to a sexy moment or semi-disrespectful exploitation of the dead."
It was intended to be neither, representatives for Spade and DirecTV said.
"When DirecTV came to me and the Farley family with this idea about 'Tommy Boy,' we talked and thought it would be a cool way to remind people just how funny Chris was," Spade said in a statement. "It is a clever homage to my friend and a movie that we loved doing."
As for DirecTV, they were taking cues from Farley's loved ones.
"We should look to Chris' family and friends for the ultimate opinion on this subject," said Jon Gieselman, senior vice president of advertising and public relations for DirecTV. "They were on board with the concept from the very beginning and throughout the entire process and felt the spot was a great to tribute to Chris."
Decide for yourself whether the commercial is truly offensive by viewing it here.
FOLLOW THIS TOPIC