'Buffy' creator to direct episode of 'Glee'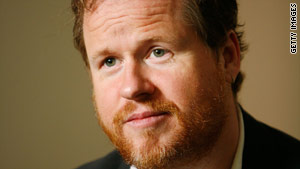 "Buffy" mastermind Joss Whedon will be directing an episode of "Glee."
STORY HIGHLIGHTS
Joss Whedon, the man behind popular "Buffy" series, will direct a "Glee" episode
Whedon is a fan of the show
He will also continue to work on his show "Dollhouse"
Editor's Note: Michael Ausiello's column, "The Ausiello Files," appears on EW.com.
(Entertainment Weekly) -- If I hadn't been warming to "Glee" already, this for sure would've begun defrosting me: "Dollhouse"-keeper Joss Whedon has agreed to direct one of the back nine episodes that Fox just ordered.
Turns out, the genius who gave us not only the "Once More, With Feeling" musical episode of "Buffy the Vampire Slayer" but also "Dr. Horrible's Sing-Along Blog" is a big fan of Ryan Murphy's new phenom.
So when Twentieth (the studio behind "Glee") approached him about the gig, pretty much his only reservation was scheduling.
EW.com: "Glee": Where you've seen the cast before
"Joss directed one of the great musical episodes in the history of television on 'Buffy,' " gushed Murphy, "so this is a great, if unexpected, fit. I'm thrilled he'll be loaning us his fantastic groundbreaking talent."
And there's no reason to panic, "Dollhouse" fans: I'm told the auteur's moonlighting in no way, shape or form suggests that that show is a goner. He'd most likely tackle the side job after Eliza Dushku and Co. have wrapped their 13-episode order.
EW.com: 25 best TV episodes associated with Joss Whedon
CLICK HERE to Try 2 RISK FREE issues of Entertainment Weekly
© 2011 Entertainment Weekly and Time Inc. All rights reserved.