By Katie McLaughlin
CNN





NEW YORK (CNN) -- "Late Show With David Letterman" bandleader Paul Shaffer is a walking Wikipedia of rock 'n' roll history -- and now he's added his own story to the mix.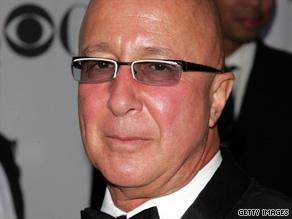 Paul Shaffer has been David Letterman's bandleader for 27 years.
Shaffer's new memoir, "We'll Be Here for the Rest of Our Lives: A Swingin' Showbiz Saga" (Flying Dolphin Press) offers his take on a colorful career, from piano lessons in his native Canada to a "Saturday Night Live" stint to the gig he's had, and relished, for 27 years -- Letterman's sidekick.
Oh yeah, and he co-wrote the hit disco song "It's Raining Men."
Shaffer appeared this week at a Manhattan Barnes & Noble to sign books and give a performance. Among those who dropped by were the Beach Boys' Al Jardine -- who joined in for "Help Me, Rhonda" -- Martin Short and girl group belter Darlene Love.
Shaffer also took questions from the audience. Though the topic of Letterman's recent troubles was off-limits, one audience member did ask Shaffer what the host was really like -- emphasis on "really."
Shaffer responded that the boss he's respected and admired for nearly three decades is "very transparent on the air and you can see exactly what he's like."
Shaffer talked to CNN about how he picks songs to introduce guests, his renowned Passover celebrations and his chance to be on "Seinfeld." The following is an edited version of the interview:
Don't Miss
CNN: When guests are introduced on the "Late Show," you usually add a musical accompaniment that's an obscure reference to their name. My favorite was when Dustin Hoffman was a guest, and you played "Dust in the Wind." Can you tell me how you come up with those, and what some of your favorites have been?
Paul Shaffer: We think of them in rehearsal before the show. I have about 15 minutes, and I often throw it open to the floor. And by the floor, I mean the musicians, the band [the "Late Show's" CBS Orchestra members]. And I say "Who has an idea for this?" And I pick the one that I like the best.
[Once we] had a new actor named Aziz Ansari, and one of the guys in the band says, "I'm Sorry" [referring to the Brenda Lee song]. So we did it, and it cracked Dave [Letterman] up so I know that I got my one laugh -- and the most important laugh.
CNN: What's the story behind using Ray Charles' "Busted" for Tom Brokaw?
Shaffer: He was particularly difficult to come up with something for because he's on all the time, and we didn't want to play a news theme or a song about the news. So Will Lee, my bass player, suggested "Busted" ... "I'm broke, aw -- I'm busted." And Brokaw asked about it once: "Why do you play Ray Charles' 'Busted' when I come on?" He asked on camera, and I said, "I'm broke -- aw -- I'm busted."
CNN: What is your favorite song of all time?
Shaffer: As far as favorite "overall package" record of all time, I'd have to say "My Girl" by The Temptations. I like everything about it, not only the composition -- but the arrangement, the production, the lead vocals, the background vocals, the horns, the strings. That one I listen to over and over again.
And, of course, "Be My Baby" by the Ronettes. Maybe that's my favorite song, and "My Girl" is my favorite record.
CNN: For some reason I thought it was "He's a Rebel" by the Crystals.
Shaffer: Well that's way up there. I consider that my national anthem. When I hear "He's a Rebel," I stand.
CNN: Are there any musicians you regret never having had a chance to work with?
Shaffer: Well, of course, Frank [Sinatra] is one, and Elvis is the other. But aside from those two I think I've done pretty well.
CNN: Can you tell me a little bit about your famed "Celebrity Seders"?
Shaffer: We spent a lot of time at the show during the early days of "SNL" ["Saturday Night Live"]. We had no personal lives at all. ... And, of course, we were there doing a show around Passover time, and Suzanne Miller, who was one of the writers, came up with the idea that we should have a seder for the cast and crew and writers who wouldn't be going home. So I said, "I can conduct it!"
I knew how to conduct a seder at lightning speed because my parents couldn't wait to get to the matzo ball soup. So I have that skill, and I also sort of had an act, too. As a prize for finding the matzo, I gave out a pizza on ["SNL's"] "Weekend Update." [Producer] Lorne Michaels liked it so much that he had matches printed up immediately that said "Paul Shaffer's Celebrity Seder" and that became legendary.
CNN: In the late 1980s, you were offered the role of George Costanza on "Seinfeld." Any regrets on not accepting that part?
Shaffer: Just to be clear, I was offered the role of Jerry Seinfeld's sidekick. He had three sidekicks, and I had a feeling mine might've been that role. And any regrets? Well, I mean it was only the most beloved show of all time. ... Truthfully, though, I would have missed the opportunity to play music.
CNN: How do you stay hip and current in a world where today's kids don't appreciate showbiz legends and the origins of comedy?
Shaffer: I still talk incessantly about "SCTV," and I say, "Screw the kids!"
E-mail to a friend

All About David Letterman • Saturday Night Live