By Ken Tucker






(Entertainment Weekly) -- The premiere of "Gone Too Far," a series about coming to the aid of drug abusers, was haunted by the death of its host, Adam Goldstein, aka DJ AM. Goldstein, a highly talented musician and producer, died two months ago at age 36, from what was ruled an accidental drug overdose.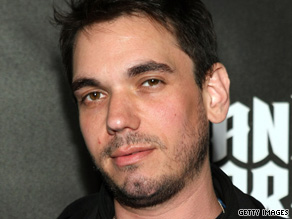 Adam Goldstein, aka DJ AM, died after making "Gone Too Far," an MTV series about helping drug abusers.
"Gone Too Far" will chronicle Goldstein's attempts to help eight addicts. First up this night was Amy, from Goldstein's hometown of Philadelphia.
Goldstein was a first-rate interviewer, questioning Amy's mother, brother, and sister with careful precision. (Amy's dead father, we were told, was also a drug addict.) "I feel a lot of pressure," Goldstein tells the camera as he emerges from these conversations -- pressure to get Amy cleaned up and sober.
We heard about Amy stealing from her family -- "thousands of dollars" -- and saw footage of her shooting up in a car. "I used to be a good person," said 23-year-old Amy. "I know I'm better than this."
"Gone Too Far" followed a structure we're familiar with from other shows: the user uses, there's an excruciatingly intimate family intervention. Then the addict is whisked off to rehab, and emerges clean, for however long he or she decides to remain so.
But what those other shows don't have is DJ AM. He's calm here, with a warm voice but a firm manner. He's straightforward: "I want to get her enough clean-time where it's not just a bag of dope we're talking to," he says of Amy.
Don't Miss
Amy did indeed go into rehab -- though not without shooting up one more time in a restroom in the Philadelphia airport.
After the 90-day treatment, her family and Goldstein visit. She's clear-eyed and cheerful. Goldstein gives her an iPod with the inscription "Don't pawn me" and uploaded with "some of my mix-CDs," he tells her.
You can criticize or debate how much the presence of TV cameras helps or hurts the recovery process. You can't deny that this was a moving series.
"I'm a recovering drug addict," Goldstein said at the top of the show, over the opening credits. It's sad he's not around to say that again.
E-mail to a friend

CLICK HERE to Try 2 RISK FREE issues of Entertainment Weekly
Copyright 2009 Entertainment Weekly and Time Inc. All rights reserved.
All About MTV Networks Company