By Breeanna Hare
CNN





(CNN) -- It's a good thing he didn't go with "@andrew."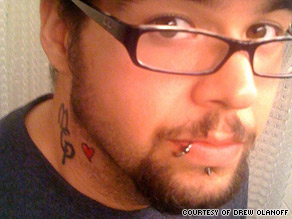 Drew Olanoff wants to benefit the LiveStrong charity because of the support the foundation has given him.
Drew Olanoff, cancer-fighter and blogger, is auctioning off his enviable Twitter username "@drew" to benefit the LiveStrong foundation. Since Tuesday, its value has already been raised to $1 million, thanks to that other Drew -- last name Carey.
"I thought we would find a Drew who would bid $10,000 on the last day and that was it," Olanoff said. "I certainly didn't think Drew Carey would get wind of it."
Get wind he did. The Cleveland comedian raised the stakes on Saturday, first tweeting an initial bid of $25,000 only to quadruple it, offering up $100,000 if his Twitter followers totaled 100,000 by the auction's closing at midnight on November 9. Olanoff was taken back by Carey's generosity, whom he's never met nor spoken to, but it seems Carey wasn't done yet.
In the middle of an interview yesterday with CBS (the corporation writing Carey's checks, as he's the host of the network's "The Price is Right"), he upped the ante from $100,000 to a cool $1 million if he gets the same amount of followers by midnight on December 31.
Judging by how quickly the follower count increases every time his @DrewFromTV Twitter page is refreshed -- on Thursday evening, he was rapidly approaching 66,000 followers -- Carey is well on his way to doing so. Of course, if he doesn't reach a million followers, the donation will be prorated: If there are 500,000 followers when the clock strikes midnight, then $500,000 will be given to LiveStrong.
It may seem like Carey's gotten himself into some sort of popularity game, but it's not about amassing millions of followers or the Twitter name, Olanoff said.
"There are obviously going to be skeptics, but Drew Carey is new to Twitter. Celebrities can get followers; Ashton Kutcher has 3 million," Olanoff told CNN. "What he's saying is, 'Follow me; you're worth a dollar, and it's going to LiveStrong.' "
This isn't the first time Olanoff's stirred up the "Twitter-verse." From the minute he was diagnosed with Hodgkin's disease in late May, he decided his cancer was of the social variety, and turned to Twitter to air his frustrations.
"I'm a very public person, I'm a geek, and I've been on Twitter for years," Olanoff said. "I realized this is serious, and I started to blame things on my cancer. I'm not a whiny person and I didn't want to get negative [so the site] it was a nice way for me to focus all of my anger and being upset and worrying. "
With the help of a friend who's also suffered from Hodgkin's disease, Olanoff set up BlameDrewsCancer.com, where tweeters can blame his cancer for any and everything that's gone wrong, in 140 characters or less.
Lance Armstrong, LiveStrong's founder, blamed a broken collarbone on it, while Alyssa Milano found Drew's cancer to be at fault for her inability to resist chocolate drizzled popcorn; she then tweeted an offer to help out Drew's cancer awareness campaign in whatever way she could.
Famous or not, Olanoff found comfort in those tweets. "When I would go through my chemo treatments every two weeks, for me it felt like I had a huge support group, because when you're diagnosed with [cancer] you can feel alone," he said.
As a result, Olanoff has decided to keep blaming cancer even though signs are pointing towards improved health; his last chemo treatment is November 2. Until midnight on November 9, his 30th birthday, Olanoff's resolved to round up as many @DrewFromTV followers as he can, and maybe accept Carey's invitation to meet up when Olanoff's back in Los Angeles.
For now, Olanoff is resting up and tossing around new Twitter names. One in the running is @TheOtherDrew, but no word on how much that one could go for.
E-mail to a friend

All About Drew Carey • Cancer • Twitter Inc.