By Jesse Solomon and Evan Buxbaum
CNN





NEW YORK (CNN) -- After a tiff that has lasted two weeks, the mayor of Newark, New Jersey, said Wednesday that he is in discussions with "Tonight Show" host Conan O'Brien to "bury the hatchet and the feud."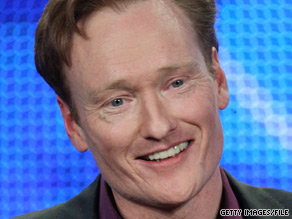 Newark, New Jersey, Mayor Cory Booker wants to end his verbal squabble with talk show host Conan O'Brien.
Mayor Cory Booker made the announcement on CNN's "Larry King Live" on Wednesday about the disagreement that started with a jab by O'Brien at the expense of New Jersey and continued into what O'Brien has called -- tongue in cheek -- "the biggest scandal in the country that's now involving a late-night host."
On September 23, O'Brien joked on his program that Booker's plan to improve citizens' health care in New Jersey's largest city "would consist of a bus ticket out of Newark."
The mayor fired back on YouTube, saying O'Brien was no longer welcome at Newark Liberty International Airport. "Try JFK, buddy," Booker quipped in a video that has garnered thousands of page views.
Booker said Wednesday that "Newark has now shown itself that it's not going to allow itself to be picked on by late-night talk show hosts."

Watch why Newark mayor wants truce with O'Brien »
The altercation underscores a recent shift in the media landscape.
"The Tonight Show," catering to a traditional broadcast audience, now competes with the Web's streaming flow of viral videos, which are popular among O'Brien's target audience.
The verbal melee has exceeded the confines of the Internet. O'Brien retaliated to Booker's initial Internet retort by sarcastically stating that Newark is "one of America's greatest cities." He then proceeded to pair its "thriving arts scene" with an image of a graffiti-ridden wall and its "exciting regional cuisine" with a Dunkin' Donuts sign.
In response, O'Brien said he was banning Booker from an airport in Burbank, California, near Los Angeles.
On October 1, Booker responded by posting another video on YouTube that outlawed O'Brien from the entire state. "Now listen, you may like Boardwalk and Park Place, but the only way you're going to get to them is on a Monopoly board," the mayor gibed.
On Friday, O'Brien said he was banishing the mayor from California entirely.
After a feud-free weekend, Conan resumed the tiff by saying that the mayor of neighboring Elizabeth had sent him a letter welcoming him "with open arms." Mayor Chris Bollwage said his municipality includes Newark Airport's A Terminal, which he vowed to rename "Conan O'Brien Terminal" if the talk-show host visits.
In turn, O'Brien launched a "campaign to surround and crush" Newark and its "drunk-on-power" mayor by making overtures to adjacent towns, forming a "geographic toilet seat around the city of Newark."
Booker, who told CNN he thought Bollwage's letter was funny, was elected in 2006 and is popular in a state often plagued by corrupt politicians. He has promoted urban renewal programs for the city, which has long suffered high crime and poverty rates.
"I'm just proud to be a mayor of a city right now that is taking on those difficult challenges and making a name for itself, not as a punchline to jokes, but actually making a name for itself as one place in America that is actually tackling problems and making good progress," he said.
In a written statement to CNN, O'Brien said he may not be ready to abandon Newark as a joke topic. "I want to again reiterate, I have only the highest respect for Mayor Cory Booker and the city of Newark, New Jersey -- one of America's oldest, greatest, and most enduring punchlines," he said.
While O'Brien has invited Booker to appear on his show and the mayor has invited O'Brien to Newark, any such visit could pose a problem, given that each is "banned" from the other's state.
"I think we have to meet in neutral territory" O'Brien said Friday. "I think we're going to meet in Lebanon, Kansas." That community is considered to be the geographical center of the 48 contiguous states.
On Monday's show, O'Brien wrapped up his latest Newark segment, but not the feud, by declaring, "It's your move, Mayor Booker."

Booker told CNN that he views the row as a way of boosting civic pride. Newark has long been an easy target for unfair and untrue jokes, he said.
He noted that shootings are down 40 percent this year, as an indicator that Newark is "remaking itself in the greatest image and hope for America."
E-mail to a friend

All About Conan O'Brien • Cory Booker • Newark