By Lisa Respers France
CNN





(CNN) -- Not long after Jon and Kate Gosselin announced their divorce on the hit TLC show "Jon & Kate Plus 8," the buzz began.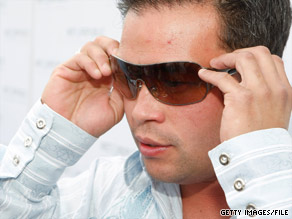 Jon Gosselin was open about the rigors of reality TV fame and being stalked by paparazzi.
Fans, bloggers and critics theorized that Jon, who had been embraced by fans as the beleaguered and sympathetic father of a set of twins and a set of sextuplets, was purposely acting out.
Gone was the laid-back dad who suffered his wife's many criticisms with a grimace and an occasional eye roll.
In his place was the free-wheeling dude who appeared to be biting the reality hand that fed him by sporting designer gear that had to be blurred by the network to avoid the appearance of endorsements and whose new girlfriend reportedly criticized TLC as "The Lying Channel."
Speculation began: Was Jon trying to get fired from the show that had made him wealthy and famous?
"While as much as his actions are probably in line with his personality in general, I think he was probably going out of his way to get fired," said Clarissa Rocco, a writer for the site TV OverMind. "I think he wanted to probably find other opportunities, and he was realizing that the public opinion was shifting toward Kate."
'Larry King Live'
Jon Gosselin exclusive! His first interview since his name was dropped from the hit reality show.
Thursday, 9pm ET

On Tuesday, TLC announced Jon Gosselin would no longer be starring in the TLC show, which will debut on November 2 as "Kate Plus 8." Jon Gosselin will appear on CNN's "Larry King Live" Thursday night to talk about his life and the show.
The new format focusing on Kate Gosselin as a single parent raising 5-year-old sextuplets and 8-year-old twins seemed to mirror public sentiment toward her as the wronged partner in their split.
Jon's new lifestyle did very little to gain him sympathy from fans.
Soon after his separation, he stepped out with both the daughter of his wife's plastic surgeon and a tabloid reporter who later resigned her position, she said, to become his girlfriend.
"In Touch" magazine reported that a former sitter for the Gosselin brood claimed to have had a sexual relationship with Jon Gosselin, who soon after the separation moved to New York City, taking turns with his estranged wife in spending time in the family's Wernersville, Pennsylvania, home.
Gosselin also made quick friends with Michael Lohan, father of troubled starlet Lindsay Lohan, and reports surfaced that the pair were pitching a new reality show with the working title of "The Divorced Dads Club."
Jon Gosselin publicly declared his love for his new steady, Hailey Glassman, and partied in Las Vegas.
He was disdainful of the fame and attention, often lamenting on his own show and in other appearances about the difficulties of being hounded by paparazzi and judged by the public.

Watch report on Jon's ouster »
While Kate Gosselin made various television appearances on shows such as "The View," where she asserted that she was trying to stay above the fray and do "what's best for my kids," Jon Gosselin took to the airwaves to complain about his treatment by the media and to declare his negative feelings towards Kate.
"I despise [her] because she's not speaking from the heart," he told ABC's Chris Cuomo during an interview. "Please -- the stuff you tell me in private should be the stuff you tell me on TV."
Yet, he proclaimed that he still wanted to continue on with "Jon & Kate Plus 8." Gosselin told PEOPLE in August that reports he wanted off the show were false.
"I never said that," he said. "A fan asked me, 'Don't you sometimes wish you could go back to a 9-to-5 job?' [And my reply was,] 'Yeah, because this is 24/7 and 9-to-5ers punch in and punch out and you have no responsibilities."
Jon Lachonis, co-editor/co-publisher for TV OverMind, said visitors to the site have been voracious in their appetite for all things "Jon & Kate."
Gosselin has reached that level of celebrity that comes from being famous for being famous, Lachonis said, and the father of multiples will have to figure out another strategy for maintaining that visibility now that he's off the show.
"I view him now as kind of a Paris Hilton without the inheritance," Lachonis said. "He can no longer play this dad faced with this incredible circumstance of eight children, so he has to continue doing what has gotten him attention over the last several months."
Variety reported that Kate Gosselin has taped a television talk show pilot with chef and TV personality Paula Deen while word is Jon Gosselin is shopping other possible TV projects.

Writer Clarissa Rocco said she believes Jon Gosselin will come up with a strategy to stay in the limelight.
"My own personal opinion is that he'll probably still be famous," Rocco said. "But I think the only way for him to really stay in the public eye and not fade into obscurity is to continue with these crazy antics."

E-mail to a friend

All About Jon Gosselin • Kate Gosselin • Hailey Glassman • Michael Lohan • Divorce • Wernersville • Jon & Kate Plus 8 • Las Vegas