By Alan Duke
CNN





LOS ANGELES, California (CNN) -- Kate plus eight minus Jon equals TLC.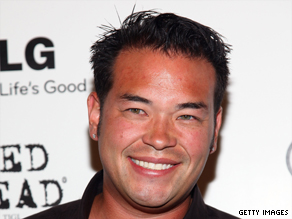 "Jon & Kate Plus 8" will continue without Jon Gosselin, TLC has announced.
The breakup of Jon and Kate Gosselin's marriage this year changed the composition of the reality show's November relaunch, the network announced Tuesday.
"Given the recent changes in the family dynamics, it only makes sense for us to refresh and recalibrate the program to keep pace with the family," TLC President Eileen O'Neill said.
After 10 years of marriage, the couple announced their separation and divorce filing on a special one-hour episode of their TLC reality series "Jon & Kate Plus 8" in June.
"I'm tired of smiling on the outside while I'm crying on the inside," Kate said in June. "I've been doing that for a long time."
'Larry King Live'
Jon Gosselin exclusive! His first interview since his name was dropped from the hit reality show.
Thursday, 9pm ET

TLC says the new show, which debuts November 2, will be "Kate Plus 8."
"The family has evolved, and we are attempting to evolve with it," O'Neill said. "We feel that Kate's journey really resonates with our viewers. Additionally, the network is in development on a Kate project for 2010."
The new show will take "a deeper focus on Kate's role in the family and her journey as a single mother building the next chapter in her life."
Jon Gosselin will still appear, "but on a less regular basis," the network said. TLC will keep its "exclusive relationship" with him, it said.

Watch full report on latest on Jon Gosselin »
"The series will continue to chronicle the Gosselin family as they go on outings and tackle daily challenges and adventures," the network said. "It will also document Kate's journey as a newly single mother raising 5-year-old sextuplets and 8-year-old twins."
The eight children have continued living in their Wernersville, Pennsylvania, home. Their parents have rotated in and out of the home during their time with them.

There was no word from TLC if that arrangement would change.
Jon Gosselin is scheduled to appear on CNN's "Larry King Live" on Thursday to discuss his reduced role on the TLC show.

E-mail to a friend

All About Jon Gosselin • Kate Gosselin • Jon & Kate Plus 8