(CNN) -- In the business of music talent shows, there's always room for one more.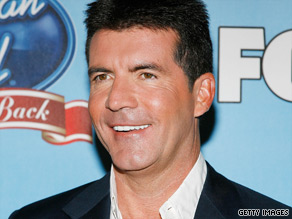 If Simon Cowell's deal with Fox is a success, he'll be the executive producer of a U.S. "X Factor."
The Hollywood rumor mill churned all summer long about Simon Cowell's "American Idol" contract with Fox, and it looks like a U.S. version of the UK's "X Factor" will be thrown in to sweeten the deal.
According to The Hollywood Reporter, Fox and Cowell are now said to be negotiating a deal that will not only lock Cowell in as an "Idol" judge through the 2011-12 season but will allow the acerbic arbiter to bring "X Factor" to U.S. audiences. He would serve as the executive producer.
Cowell, whose "Idol" contract expires next year, has been open about his desire to create an American version of the hugely popular "X Factor," something he couldn't do under his existing contract.
The reality show is so similar to "Idol" that Fox reportedly initially declined to bring it stateside.
The show, which varies from the "Idol" format by allowing music groups to compete in addition to solo singers, would be expected to run during "Idol's" off-seasons, in the summer or fall, according to The Hollywood Reporter.
It's unclear whether or not Cowell would remain as an "X Factor" judge, but there's speculation that he may bring former "Idol" judge Paula Abdul on board, along with fellow UK judges Cheryl Cole and Louis Walsh.
Don't Miss
The Cowell-created "X Factor" has been a phenomenon in Britain since its debut in September 2004. The show started its sixth season in August to an audience just under 10 million, a huge number in Britain.
For Cowell, the more music talent competition series, the better. He told The Hollywood Reporter in April that the United States could use another music show.
"In the UK, there is more than one type of music show running throughout the year," he said. "And I think the same thing could happen here, because for the fall, nothing really happens."
E-mail to a friend

All About Simon Cowell • American Idol • Reality Shows