By Breeanna Hare
CNN





(CNN) -- Kate Gosselin finally opened up about her marriage in her second appearance as a guest co-host on "The View," but the reality of "Jon & Kate" was far from the only topic. The show also addressed the death of Patrick Swayze and the Kanye West-Taylor Swift incident, the latter with Swift herself.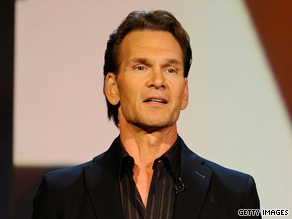 The death of actor Patrick Swayze was one of many topics covered on this morning's "The View."
The morning talk show opened on a somber note by remembering the passing of Swayze, who played alongside "View" co-host Whoopi Goldberg in 1990's "Ghost."
"Because of Patrick Swayze, I got that movie 'Ghost,' " a visibly choked-up Goldberg said. "Because of Patrick Swayze, I have an Oscar."
Goldberg said her friend and co-star "fought like the dickens" against pancreatic cancer and was determined to keep working until he died.
"I hope whenever it comes for me, that I do the same," Goldberg said. "I would like to have that bravery."

Quiz: Remembering Patrick Swayze »
Barbara Walters talked about the time she spent with Swayze and his wife Lisa in December 2008 for the last television interview the actor did before he passed. iReport.com: Send us your memories of Swayze
Asked if he were scared, Swayze said to Walters: "I will be either truthful or stupid and say no, but immediately when I say that, I say yes I am. I don't know what's on the other side." Walters' interview with Swayze is scheduled to air Tuesday night on ABC.

Watch Patrick Swayze remembered by fans, in photos »
But once the hosts paid their respects to Swayze, the attention did turn back to Gosselin. Walters got the reality star to open up, asking Gosselin why she still wore her wedding ring.
Gosselin responded with the only answer she has for anything these days: She does it for her kids. "You know," she said, "we are not officially divorced yet, and I keep it on for the kids."
Gosselin then recalled a recent opportunity to talk about her divorce with her children, when she happened to scratch daughter Hannah with the ring while they watched TV.
Gosselin used that moment to remind her kids that she wasn't going to wear her ring much longer, "because Mommy and Daddy aren't going to be married anymore." Gosselin said Alexis "thought for a second, and said, 'Will Daddy still be our daddy?' I told them yes, forever."
Larry King Live: Patrick Swayze Remembered
Patrick Swayze's famous friends remember the 'Ghost' and 'Dirty Dancing' star! An all-star tribute to the man who made the most of life! Patrick Swayze's memory honored by those who knew him best.
TONIGHT, 9 ET

When her children asked her if she would remarry, Gosselin told them it would be a "long, long time from now."
With the debut of "Dr. Phil's" eighth season starting today, "The View" also sat down with the afternoon talk show host, who has his own history with the Gosselins.
Kate Gosselin requested marriage counseling from Dr. Phil McGraw and his wife Robin, which brought a vocal negative reaction from Jon Gosselin, who reportedly said he "felt it was weird." McGraw wouldn't comment on Jon, but did mention that he felt reality television can harm a marriage.
Kate Gosselin, however, respectfully disagreed. "Personally in my own marriage," she said, "for us it was going to happen anyway. Hindsight is 20/20. All those issues were there, and the world saw it and I think it would've happened to us anyway."
"But," Gosselin added, "I want to set the record straight on Jon's comment: I do not support that comment and I do not agree. I don't know what he walked away with, but I walked away with wisdom and I have huge respect for Dr. Phil and Robin."
To conclude the whirlwind of hot-button issues, "The View" brought on 19-year-old country singer Taylor Swift, who'd been scheduled for months to appear on the show. Swift talked with the panel about the brouhaha at Sunday's MTV Video Music Awards, after rapper Kanye West jumped onstage and grabbed the microphone as Swift accepted the Best Female Video award.
Swift said her overall thought process during the VMAs was, "Wow, I can't believe I won. This is awesome. Don't trip and fall; thank the fans. Oh, Kanye West is here. Cool haircut. ... And then, ouch; I guess I'm not going to thank the fans."
Swift said that she was open to a face-to-face apology from West, but that despite his comments that he would like to personally apologize to Swift -- including a statement on "The Jay Leno Show's" premiere Monday -- he hasn't approached her as of "The View's" airtime, she said. (Swift's representative told CNN that West has since reached out to the country singer.)

Although she was rattled, there was a bit of silver lining in the West fiasco, Swift said.
"There were a lot of people around me backstage [at the VMAs] that were saying incredible things, all the people and fans and music artists," Swift said. "I just never imagined that there were that many people looking out for me."
E-mail to a friend

All About The View (TV Show) • Patrick Swayze • Kate Gosselin • Jon Gosselin • Jon & Kate Plus 8 • Divorce • Taylor Swift • Kanye West