By Patrick Oppmann
CNN





SEATTLE, Washington (CNN) -- The mayor of Mount Vernon, Washington, thought his plan seemed simple enough: honor a local citizen who progressed from humble roots to national stardom.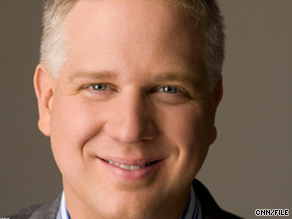 Controversial TV and radio host Glenn Beck is set to be honored later this month by his hometown.
But the fact that the "local boy made good" is controversial radio and TV personality Glenn Beck has roiled some local residents who fear the visit will be bad for business. The visit also inspired a nearby city's mayor to issue a competing invitation to "The Daily Show" host Jon Stewart, a harsh Beck critic.
Mount Vernon Mayor Bud Norris says the criticism has not changed his mind, and September 26 will still be commemorated as Glenn Beck Day. The Fox News Channel host will be on hand to receive a ceremonial key to the city.
But Norris told CNN he has been surprised by the amount of criticism.
"I don't know if I expected the magnitude of resistance," Norris said. "But I have also received a tremendous amount of positive response."
Norris, who describes himself as conservative but stresses that his position of mayor is a non-partisan one, said Beck's commentaries take aim at both Democrats and Republicans.
"He criticized the Bush administration severely and he's criticized the Obama administration," Norris said. "He's provocative, he causes people to think."
Beck joined Fox in 2008 after hosting a show on CNN sister network Headline News, now HLN.
Norris said he has known Beck since his parents owned a bakery in Mount Vernon, a town of just over 30,000 residents about 60 miles north of Seattle. Beck's story of success, Norris said, should inspire all Mount Vernon residents, whatever their political stripes.
But some residents say the Beck invitation is a mistake.
"An accident of birth and Beck's fame, or rather notoriety, hardly justifies the mayor's plan to exercise his authority to hand the key to the city to one of the most divisive voices in broadcasting," the Skagit Valley Herald editorial board wrote in a commentary headlined "Honoring Beck One of the Mayor's Worst Ideas."
Also opposing the honor is Glenn Bordner, past chairman of the Skagit County Democratic Party.
"This county is divided 50-50 between Republicans and Democrats," said Bordner. "He doesn't represent even the Republicans here. They are Eisenhower-style Republicans."
Democratic groups have led protests in Mount Vernon against the Beck invitation and, Bordner said, may seek a censure of the mayor.
The nearby city of Bellingham also joined the fray, with its mayor's offer to host Stewart of Comedy Central.
Bellingham Mayor Dan Pike said he invited the comedian because the two men attended the same high school in New Jersey and, Pike said, because Stewart's faux news show does a better job than Beck at presenting issues.
Beck "contributes to a pettiness of spirit," Pike said. "He does not improve the public discourse."
Pike said he has not gotten a response to his invitation. Comedy Central did not return a call from CNN requesting comment.
Georgiann Dustin, the executive director of the Mount Vernon Downtown Association, said she and other business leaders are not taking sides in the Beck dispute but hope the matter blows over soon.
"Some of us are receiving 50 calls a day from people saying they will boycott our businesses [because of the Beck visit]," Dustin said. "They are hitting us in the pocketbook."
Mayor Norris said he had received some of the same calls threatening a boycott, but did not put much stock in them.
"If half of the people threatening not to shop here now actually had done business here we would have been doing great," Norris said.
If anything, Norris said, the flap shows how far Beck has come since his days in Mount Vernon.
"You either love him or hate him," he said. "In that sense he's like a lot of us in public life."
E-mail to a friend

All About Glenn Beck • Politics