By Alan Duke
CNN





LOS ANGELES, California (CNN) -- Jay Leno's new show will be freshly baked five nights a week with three times the comedy of his former "Tonight Show," the comedian promised.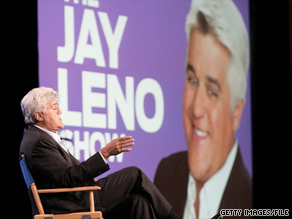 "The Jay Leno Show," is premiering at 10 p.m. Monday on NBC.
"The Jay Leno Show," premiering at 10 p.m. Monday, is a new approach for American broadcast television -- a prime-time talk show -- that could soon be imitated by other networks, one TV scholar said.
Leno ditched the desk, instead choosing a "conversation area" with two chairs for his guests. "It's fun being able to change that up a little bit," Leno told reporters Wednesday.
Much of the action takes place outside his new studio, including celebrities racing electric cars on a track built for the show. "Who doesn't want to see a celebrity hit the wall and burst into flames?" Leno asked.
Celebrity "correspondents" will deliver comedic reports from the field, but introduce them, in the style of Jon Stewart's "Daily Show," in the studio. "I wouldn't say it's like the 'Daily Show,' but I could see how somebody could make that comparison," Leno said.
Musical guests will be limited to one song, and most nights they'll share the stage with other stars. Hip hop stars Jay-Z, Rihanna and Kanye West team up for the premiere show.
"What we're trying to do is put together acts that you do not normally see together or don't normally perform together," Leno said.
Leno's debut guest will be Jerry Seinfeld, who will likely promote a stand-up act.
But Leno, whose own stand-up comedy career was boosted by his appearances on Johnny Carson's "Tonight Show," said "the days of sort of a comic coming out, hitting their marks, standing there and telling a joke" are over.
Leno will open each show with a 10-minute monologue about the day's events. "Immediacy is the key," he said.
The show will close with comedy bits, including his traditional "headlines" segment featuring newspaper clippings sent in by viewers, he said.
It's a "big tent show" aimed at making everyone laugh, not just a niche group, Leno said.
The bar is set low for Leno's ratings, as NBC's prime-time performance has been poor in recent years. "NBC's in fourth place," Leno said. "You can't do any worse."
Robert Thompson, a professor of TV and pop culture at Syracuse University, said Leno does not have to beat his 10 p.m. network competition in ratings to be successful.
"Leno five days a week is an awful lot cheaper to make than five days of scripted programming at 10 o'clock, so even if Leno only performs moderately, I think NBC will probably call it a roaring success," Thompson said.
Other broadcast networks may follow NBC's move.
"I can see not too far in the distant future, especially ABC, taking a look at Leno's numbers and, if they are pretty good, thinking, 'Well, they're doing well with this much cheaper five-day-a-week comedy program, why don't we do a similar five-day-a-week thing,' " Thompson said.
The troupe of Leno's rotating correspondents will include Ross Mathews, Liz Feldman, Brian Unger, Nick Thune, Owen Benjamin, Marina Franklin, Sebastian Maniscalco, D.L. Hughley, Mikey Day, Rachael Harris, Jim Norton, Dan Finnerty and The Dan Band.
Actor Tom Cruise will be Tuesday's big guest. He will premiere a new Leno feature called "10 at 10." Leno also will deliver a "House Calls" segment.
Actor-comedian Robin Williams and actor-singer Miley Cyrus are to visit Leno on Wednesday.
Actress Halle Berry is the guest on Thursday night, when musicians Bruce Hornsby and Eric Clapton will perform together.
E-mail to a friend

CNN's Richard Benson contributed to this report.
All About NBC Universal Inc. • Jay Leno