By Ken Tucker





(Entertainment Weekly) -- Jon Gosselin dug himself into a deep hole Tuesday morning on "Good Morning America" with a clip of him saying of his wife Kate, "I despise her."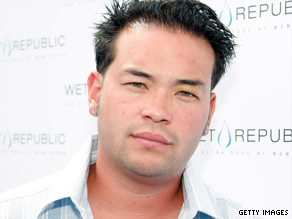 Jon Gosselin speaks out about his bitter break-up with his wife in a new television interview.
But during the full-length version of that interview, shown as part of ABC's "Primetime: Family Secrets," Gosselin probably only made things worse for himself.
Talking about his girlfriend Hailey Glassman, he said, "I love her more than I did Kate."
Jon told interviewer Chris Cuomo, "I was abused. I went through therapy."
His message to Kate via the cameras? "Help me out. Go to therapy. Give me closure."
"We were a better team before ['Jon & Kate Plus Eight']," he told Cuomo on Tuesday night.

Watch a panel discuss the interview »
And indeed, it did sound pretty crass that the only therapy Kate would agree to was the celebrity kind: with Dr. Phil, said Jon.
"I said, 'Huh?'... It was all about protecting the brand [of 'Jon & Kate Plus Eight']." Jon declined to meet with Dr. Phil, who gave ABC a terse, "No comment."
Jon's comments allowed Kate the opportunity to issue a classy-sounding response, saying, "For the sake of my children I maintain that I'm not going to go into details of aspects I believe should remain private."
Here's the thing: as those of us who used to watch "Jon & Kate Plus Eight" with pleasure during their rosy days know, Jon was always uncomfortable and less articulate in front of the cameras. That's why Kate's the one pursuing a TV career, such as her upcoming guest-host stint on "The View."
To his credit, Cuomo quietly but persistently tried to point out to Jon, again and again, where he may be going off the rails. But what can you do with a guy who tells you one moment he's been drinking a lot, and in the next breath says, "My father was an alcoholic," that his grandfather was an alcoholic, and he knows he doesn't want to inherit the disease?
Jon seems to tend toward making bad decisions, such as seriously considering a "Divorced Dads Club" show with Michael Lohan and Kevin Federline.
"I don't know," he said when Cuomo asked if he was going to do that project. "That's why I have a legal team. I might not be able to do it."
For his own sake and his kids, let's hope someone prevents that.
E-mail to a friend


CLICK HERE to Try 2 RISK FREE issues of Entertainment Weekly
Copyright 2009 Entertainment Weekly and Time Inc. All rights reserved.