By Ken Tucker





(Entertainment Weekly) -- In a sound-bite sure to be re-watched in years to come by the eight kids Jon and Kate Gosselin have brought into the world, Jon Gosselin told Good Morning America, "I despise her."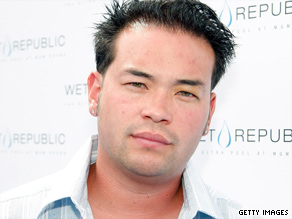 Jon Gosselin speaks out about his bitter break-up with his wife in a new television interview.
Kate, said Jon, "beat me down... like a lame fish."
Speaking to interviewer Chris Cuomo, Gosselin, always the less voluble of the couple and recently better known for pictures of his post-separation partying than his pithy statements, let loose.
"Stop feeding into the frenzy," he responded when Cuomo asked if he had a message to Kate.
Jon was referring to Kate's continuing public profile, such as her recent Larry King Live interview.

Watch Gosselin let loose on wife »
Even Cuomo seemed taken aback by Jon's vehemence. When Jon used the word "despise," Cuomo warned him gently to be careful, that the "tit-for-tat" sniping might be harmful.
Jon just piled on more.
"Our relationship will never be fixed," he said flatly. Asked why he doesn't still wear his wedding ring, as Kate wears hers, he said, "She took my ring."
When Cuomo looked skeptical, Jon said, "Who else would take it?" He added he'd looked under his kids' pillows for it, so I guess he considered them no longer suspects.
Cuomo said the interview lasted three hours. Depending on your point of view the good news or the bad is that it's been edited down to just enough to fit in to tonight's one-hour ABC show "Primetime Family Secrets," at 10 p.m. ET.
E-mail to a friend


CLICK HERE to Try 2 RISK FREE issues of Entertainment Weekly
Copyright 2009 Entertainment Weekly and Time Inc. All rights reserved.