By Jay Kernis
CNN





Editor's note: Jay Kernis is managing editor of CNN/US. He worked at CBS News for 14 years, 5½ of those for "60 Minutes" as a producer for Lesley Stahl and Mike Wallace.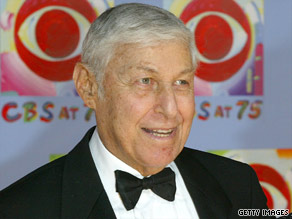 Don Hewitt joined CBS News in 1948, and went on to create "60 Minutes."
NEW YORK (CNN) -- Don Hewitt created a remarkable system to get the best stories on the air.
First of all, he never held an editorial meeting. It was up to each producer to stay on top of the news and claim a story as soon as you knew you had something. You claimed a story by submitting a "blue sheet" -- before computers, the paper must have been blue -- and you wrote a few lines describing the story and the best reason it should be on television.
Then you put your name on it, the correspondent you worked for and the date and the time you were submitting the pitch. So if you woke up at 3 in the morning with an idea and submitted it by 3:30, you usually beat the producer who submitted it at 5 a.m. Don would then give your pitch the thumbs up or the thumbs down.
I once submitted the idea of profiling Stephen King. At the time, he hardly ever did TV interviews, so anything he said would have made a good story. Don walked into my office, holding the blue sheet and said, "Now why should we do a story about Stephen King? And don't tell me he's the bestselling author in the country. That's not a story."
I knew I had less than a minute to sell the story, so I said, "He's so successful, he can be whoever he wants and at this point in his life, he seems to want to be a teenager. He rides motorcycles around his town. He built a baseball stadium behind his house. Oh, and he plays in a rock band with other writers."
Don said, "Do it!" He wanted to make sure the viewer would ask: and what happened next? And he wanted to see a producer's passion for the story.
Don assumed that we'd be able to bring back a video that told a story. He wanted to make sure the writing was as powerful and perfect as you could get it, given the deadline. He insisted that producers write the correspondent's on-camera introduction first, because he knew that a viewer would base the decision to stay tuned or not on that studio introduction.
On my first story with Lesley Stahl, he walked into my office holding the script and said that one word wasn't strong enough. I said, "It's your show, change it to whatever you want." He said, "No, it's got to be exactly the right word." And we spent five minutes debating adjectives until he was satisfied.
Almost always, as you can tell, he came to your office. But one day, he called me to his office and asked, "Did you ever see the documentary I did on Frank Sinatra?" I had heard about it, but had never seen it. "Sit down," he said. I don't know why he had it out, but he knew I liked American popular songs, so he played at least a half-hour for me.
Somehow, Don had convinced a reluctant Sinatra to allow him to bring his cameras inside a recording session, and Don had managed to capture the essence of the legendary performer. You could see how hard Sinatra worked to make it all seem so effortless.
Don told us that he patterned his career after the two famous CBS Eds. Half Edward R. Murrow, half Ed Sullivan. The lesson: Be relentless in your search for the truth and also understand how to present it with style. And over and over again, he would say, "The only secret to the success of "60 Minutes" is four words: Tell me a story."
E-mail to a friend

All About Don Hewitt • Stephen King