By Jack Hannah
CNN





LOS ANGELES, California (CNN) -- Make room on the catwalk: "Project Runway" is back.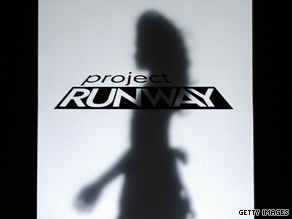 "Project Runway" was the subject of a tug-of-war between companies, but the show is finally back.
The design competition returns for a sixth season on a new network (Lifetime), in a new city (Los Angeles), with 16 new contestants, all looking to dazzle their way to fashion greatness.
"Project Runway" premieres Thursday, about eight months later than its original date. The delay was because of a legal battle between Lifetime and the Weinstein Co. (which owns the show), and NBC Universal, parent company to Bravo (which aired "Project Runway" for five seasons).
Despite the new home, the show's core -- supermodel host Heidi Klum, silver-fox mentor Tim Gunn and snarky judge duo Nina Garcia and Michael Kors -- remains intact.
Klum says to expect "a lot of drama" between judges and contestants, and to keep an eye on the female designers in season six.
The following is an edited version of the interview.
CNN: Were you concerned, given all the legal battles, with "Project Runway's" future?
Heidi Klum: I was never too concerned about it, to be honest with you. I mean, I talked with Tim Gunn a few times, because I would see him at different events, and he was like, "I hope we're gonna be on again! And what do you think?" I always said to Tim, "I don't think we have to worry too much. It's a great show. We have fans, and people really enjoy the show, and I think they will all figure it out."
And you know, it didn't really have anything to do with us. It was kind of all the bigwigs figuring it all out. ... We had to sit back and wait and see what happens, and it all worked out. I was always very optimistic about it.
CNN: This show is really a labor of love. What does it mean to you?
Klum: I do love the show. I [was] there from the very beginning, from when the first seed was planted and Harvey Weinstein from the Weinstein Co. came to me and said, "I want to do a show about fashion, but I don't really know what to do, exactly." He always felt that there wasn't a show that showcased how clothes are being made. ...
We had many, many meetings and thought about different things we could do and came up with doing challenges and models and putting a runway show together and kind of making it in a documentary style and do a show about designers.
CNN: Give us a taste of what life is like for the contestants while "Project Runway" is shooting.
Klum: Life for the contestants is very, very hard. ...
When I film, for example ... I shoot a day; I have two days off. The days when I have off, they're filming; they're working; they're sewing; then they come in again for a day; we're judging; then I give them a new challenge; then I have a day off, but they're not, they're working. ...
I always call it a pressure cooker because they're really full of anxiety, full of drive; they want to win, and they put all their heart and energy into it. It's very hard for them. They don't get a lot of sleep.
CNN: Do you find it difficult to criticize some of the work you see when judging?
Klum: No. I mean, everyone has a different opinion. Obviously, people at home will have a different opinion than I have or that Michael and Nina have, so that's why I always think that it's good that the three of us are sitting there.
We come from three completely different fields. I'm someone who usually gets to wear the fashion. ... Michael is the person who makes it, so he knows how it is to be a designer. ... Nina comes from the magazine world. She is the person that gets to decide what gets to be put in the magazine, what is in and what is not. She is kind of someone, too, who sets the trends.
Then we always have a glamorous guest there who has also been in the fashion industry: if it's a designer that's been around a long time or if it's an actor or an actress ... someone who really makes a statement in the fashion industry. I think we are a good mix.
CNN: What are you most excited about for season six?

Klum: What I'm most excited about is that the designers get to be on the air, because they have been waiting for a long time. ...
I want America to see these people; they worked so hard, and they've spent so much time, so much energy on the show, and they deserve to be seen. I'm most excited really for the designers, that they finally get their credit for what they've done.
E-mail to a friend

All About Project Runway • Heidi Klum