By Lisa Respers France
CNN





(CNN) -- When Christjohn Batters looks around the dance studio where he works in Atlanta, Georgia, he notices something different these days.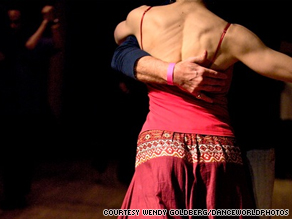 Dance shows are sparking interest in events like this one at Stepping Out Studios in New York.
"I've been at this studio for eight years, and I would definitely say that there has been a steady increase and an influx of people wanting to learn how to dance," said Batters, an instructor and assistant manager at the Ballroom Dance Clubs of Atlanta.
"People see dance on TV, and they see people learning to dance ... and they think, 'OK, this is something I could learn to do.' "
Shows like ABC's "Dancing with the Stars," Fox's "So You Think You Can Dance," MTV's "America's Best Dance Crew" and Oxygen's "Dance Your Ass Off" are drawing millions of viewers and helping expose audiences to the art of dance.
Be it hip-hop, salsa, tango or ballet, viewers are learning that dancing is no longer just for the enjoyment of the Lawrence Welk set.
Batters said a lot more younger couples -- and men -- are venturing to his studio to kick up their heels.
He also said he's tickled that professional ballroom dancers such as "Stars' " Julianne Hough, Maksim Chmerkovskiy and Karina Smirnoff are staring out from magazine covers usually dominated by celebrities.
"Professional ballroom dancers, we were always like an underground club for a long time," Batters said. "Now, all of a sudden, ballroom dancers are household names."
"DWTS" has proven to be the most popular of TV's dance shows. Its two weekly episodes finished third and fourth in the year-end ratings, after "American Idol's" two weekly episodes. The show links celebrities with professional ballroom dancers who put them through their paces in a weekly competition.
On "SYTYCD," a summer hit, amateur and professional dancers perform in pairs and compete for the title.
"America's Best Dance Crew," which premiered its new season on Sunday, pits dance crews from across the world against each other, performing in various styles.
The newest entrant to the competitive dance field on television, "Dance Your Ass Off," has been viewed as a combination of "DWTS" and "The Biggest Loser" in that contestants compete to lose weight and win points for their moves.
Tonya Plank covers dance on her blog, Swan Lake Samba Girl, and said many readers venture there in their search for more information on "So You Think You Can Dance" contestants and others.
Plank, a former ballroom dancer who has taken instruction from "So You Think You Can Dance" season three finalist Pasha Kovalev, said visitors to her site flock to posts and videos about the ballet companies and ballroom competitions, even if they don't live in the area.
More people are also coming out to watch dance, she said.
"The dance competitions are so much more popular these days," Plank said. "There are so many more people there, and the ballrooms are so crowded now."
Robert Abrams, publisher and editor of ExploreDance.com, said that gauging interest in dancing can be tricky, but he agreed that the shows are helping feed the public's fascination, as is the poor economy.
Dancing makes people feel good, even in bad times, said Abrams, who has trained in competitive ballroom dance and West Coast swing dancing and served on a board of directors for the Dance Critics Association
"While I certainly think that there has been a greater amount of interest that has been generated by these different dance-related TV shows, you also have to take some of the other types of circumstances that we are experiencing in to account," he said.
Abrams also points out that now is not the first time the public has become enthralled with dance and that such a resurgence often happens in waves throughout the years.
"Look at the reaction to the Gap commercials featuring dance in the late 1990s, and eventual fall-off, for some historical perspective," Graham said.
Wendy Goldberg, a freelance photographer and reviewer of modern dance and ballet performances in the New York area, said she has noted a growing interest in dance, particularly among women in their 20s.
Manhattan has a thriving dance culture, with each genre having a devoted following, Goldberg said. Dancing helps people connect, she believes.
"You have to communicate with your partner," Goldberg said. "When you are at a party, you don't know what your partner might do, so you have to be in the moment and really focused on that partner."
Instructor Batters said he has seen an increase in people wanting to pursue competitive dance since the shows have gained popularity.
Even with all of their distinct differences in styles and setup, Batters said, he thinks all of the shows share a common message: "You don't have to be born a dancer to learn how to dance."
E-mail to a friend

All About Dancing with the Stars • Ballroom Dancing