By Jordan Valinsky
CNN





(CNN) -- In recent seasons, "Dancing With the Stars" has given exposure to such unlikely dancers as "Cheers" and Pixar favorite John Ratzenberger, magician Penn Jillette and Oscar-winning octogenarian actress Cloris Leachman.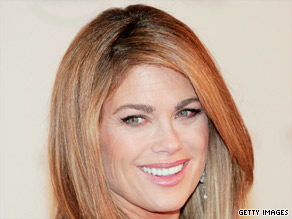 Kathy Ireland is among the contestants who will take part in the "Dancing With the Stars'" ninth season.
But this year, the show is adding an even more unusual guest: A Hammer.
Former Republican Majority Leader Tom DeLay -- known as "the Hammer" for his tough-minded tactics -- is among the contestants for the show's ninth edition, ABC announced Monday.
Host Tom Bergeron and contestant Donny Osmond appeared on the network's "Good Morning America" to make the announcement.
"This is the season where we have a cast that is as big as some of your family reunions," Bergeron joked to Osmond, a member of the Osmond family of entertainers. Blog: Are these really 'Stars'?
Joining Osmond and DeLay will be Kelly Osbourne; former Dallas Cowboy Michael Irvin; models Kathy Ireland and Joanna Krupa; singers Macy Gray, Mya and Aaron Carter; actresses Melissa Joan Hart and Debi Mazar; Olympic swimmer Natalie Coughlin; ex-UFC fighter Chuck Liddell; snowboarder Louie Vito; and actors Mark Dacascos and Ashley Hamilton.
Bergeron said this season will be a bit different as the show will have double elimination in the middle of the season.
"It will be a ballroom bloodbath," Bergeron said.
The new season of "Dancing With the Stars" begins September 21. Last season's winner was gymnast Shawn Johnson.
E-mail to a friend