By Douglas Hyde
CNN





GEORGETOWN, Kentucky (CNN) -- It's morning at Georgetown College in Kentucky. An irresistible force of men in white jerseys smashes into an immovable object of men in black ones.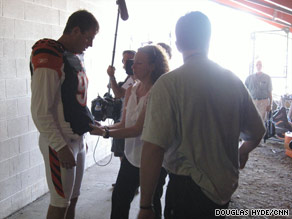 Cincinnati Bengals quarterback Carson Palmer sizes up the situation on "Hard Knocks."
The Cincinnati Bengals training camp is under way, and cameras are there to capture the action for HBO's five-part fly-on-the-wall documentary series, "Hard Knocks." It's reality TV, NFL-style.
The show takes an in-depth look at a professional football team's summer training camp and chronicles players' battles to win a place on the roster. The season premiere is Wednesday night at 10 p.m. ET. (HBO, like CNN, is a unit of Time Warner.)
Last year, the show covered the Dallas Cowboys, a team full of Hollywood-style glamour. Colorful receiver Terrell Owens was on the team at the time, and quarterback Tony Romo was dating actress-singer Jessica Simpson.
This year, the show is following the Bengals. The underdog Cincinnati club isn't exactly at the same elite level as the Cowboys, producer Steve Trout admits, but it's not glitz that makes for a good series.
"The Cowboys were a great show, but you don't need to follow the sexy names, Romo and T.O., to do a good show," Trout says. "A good show has good storylines and good characters, and it makes it a better show when we can introduce you to someone you don't know about."
Which leads to an overarching question for this year's edition, one its producers hope will compel audiences to watch: Can the Bengals finally begin to overcome their "Hard Knocks"?
"The organization itself is a great story for our times," Trout believes, "It's trying to redeem itself. It's not whether you get knocked down; it's how fast you get back up."
And this team has been knocked down a lot. Twenty years ago, when the Bengals were 34 seconds away from winning Super Bowl XXIII, San Francisco 49ers Hall of Fame quarterback Joe Montana threw a dagger into the heart of Cincinnatians by hooking up with John Taylor for the game-winning touchdown. (The Bengals also lost a Super Bowl to the 49ers in 1982.) What followed was over a decade of bad luck, bad decisions and ridicule from the national sports media, which derided the team as a mom-and-pop family-run organization too cheap and poorly run to ever win.
In 2003, Coach Marvin Lewis and quarterback Carson Palmer arrived. Lewis brought discipline to the ranks and got the team at least back to mediocrity. In 2005, it all came together. Led by Palmer, who had developed into an top-flight quarterback, the team reached the playoffs.
But again heartbreak struck: In the playoff game against their hated rivals, the Pittsburgh Steelers, Palmer went down with a knee injury; the Bengals lost and haven't quite been the same since.
More mediocre and losing seasons followed, including a stretch where a number of players were arrested for everything from DUIs to burglary.
Team officials hope the bad apples have all been purged from the team now, and the hope is that "Hard Knocks" will show the country that.
"We have a bad rap," Palmer admits. "I think it will hopefully kind of get rid of that stigma that's followed us around for the past three or four years. People will say, 'There's a bunch of good dudes.' It's not the same guys we had three or four years ago, when we were going through some stuff. We got a bunch of good locker room guys, a lot of veteran guys who have been around for a while."
The great football coach Vince Lombardi believed that his players trained harder when they knew the cameras were rolling. Might their presence help motivate Bengals players to do better? Lewis is quick to throw cold water on that idea: "Everything we do is already on video anyway, so it really doesn't matter. That's the difference from this era and [Lombardi's]. It doesn't change much."
Apparently, 21st-century athletes are so bombarded by media coverage and cameras, they don't even notice. In fact, while being interviewed for this article, star receiver Chad Ochocinco had several lenses focused on him from both HBO and the local media. "They're here right now," he deadpanned. "Can you see them?"
Still, HBO's lens captures a broader picture than some of the others, one that may also reach a more diverse audience. Palmer knows what the dramatic stakes are for the team and the series: winning some football glory for a long-suffering city.
"It's a proud group of people who have stood with us through some bumps in the road, a few highs but a lot of lows. ... You want to give the people here something to brag about at work. Something to send e-mails out about, something to send text messages," he says.
"It's a lot of pressure, because I really feel this is a great year to give our fans something to be excited about and proud of. You don't want to let them down."
E-mail to a friend

All About Cincinnati Bengals • Dallas Cowboys • Home Box Office Inc.