By Lisa Respers France
CNN





(CNN) -- The hit reality show "Jon & Kate Plus 8" returned to television Monday night with a scenario that many families in America can relate to: what happens when Mommy and Daddy separate.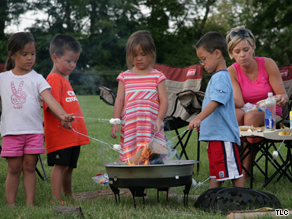 Kate Gosselin is now a single mother on the hit TLC reality show "Jon & Kate Plus 8."
The two new half-hour episodes, titled "Renovations and Vacations" and "Camping Out," gave viewers their first glimpse of life inside their Pennsylvania home since Jon and Kate Gosselin announced their split in June.
The parents of a set of twins and a set of sextuplets have come under almost constant media scrutiny since news that they have broken up, and will divide time with their children while continuing to shoot their popular TLC series.
Alaina Sheer, the creator of the Ms. Single Mama blog, said this new twist in the show may turn out to be a positive experience because so many people can relate to it.
"Fifty percent of the marriages in this country do break apart," said Sheer, whose marriage ended when her son was 4 months old. "I just really hope the two of them, despite the media and everything else, can come together as a united force for their children."
Monday night included two new half-hour episodes, the first of which attracted about 4 million viewers, according to ratings data released by TLC on Tuesday. The second episode drew even more, with 4.2 million tuning in.
In the past, part of the show's appeal has been in the documentation of a young couple's struggle to raise multiples. The couple was often shown sharing their thoughts on a couch.

Watch a discussion about the show's new format »
But these days Jon is alleged to have two girlfriends and a new apartment in New York. Kate has been slammed as disingenuously complaining about the paparazzi while being snapped sporting a tan and toned body in a two-piece swimsuit during a North Carolina vacation with her children.
Dee Brun, a mother of four and author known as the Cocktail Deeva, is a fan of the show and said she is still debating whether she will continue watching.
Jon, Brun said, appears to be "running around sowing his wild oats and tasting his freedom" while Kate seems to be "enjoying her fame more than she is letting on."
"My sentiment is, no Jon, no Kate; I am more for the kids," Brun said. "I think they should stop filming and totally focus on the kids."
Brun said the show appeared to present Kate sympathetically as she adjusts to her new role as a single mom.
"There's the whole sympathy vote, and a lot of people are not Team Jon right now because he is making poor choices," Brun said. "I watched because it was the new season, but the show has kind of lost its zest for me."
Author David Mott has written about "Jon & Kate" on his blog "Dad's House." The divorced, single father of two said he is curious to see how the show will portray Jon -- who had a minimal presence in the first episode and none in the second -- now that the two will take turns living and taping the show with the children.
"Traditionally, the media portrays single dads as basically bumbling oafs who don't know what they are doing," Mott said.
Mott said divorced men have a reputation for jumping back into the dating scene full force. While he, too, dated frequently after his relationship ended, he was also careful to keep it discreet.
"I absolutely needed positive attention from women, and I needed to have fun again. So I understand that aspect of Jon, but I do think it's a little extreme," said Mott, who has a teen son and daughter. "There is so much focus on Jon and Kate that any choices Jon makes I'm sure are totally fine for him but they are not representative of every single dad."
Entertainment Weekly's critic-at-large Ken Tucker said the new shows are more reminiscent of the pre-separation "Jon & Kate."
"All in all, these were pretty much good old-fashioned J&K episodes, for which TLC must be breathing a sigh of relief for getting non-angry, non-controversial footage," Tucker wrote in his review of the episodes. "Or maybe the network isn't relieved, because original-style Jon & Kate shows didn't pull in the ratings that the post-separation ones did."
The couple's marital woes have made national headlines -- the announcement show about their separation attracted more than 10 million viewers -- even as they remain fodder for local discussion in their community.
The couple's local newspaper, the Reading Eagle in Pennsylvania, ran a column by editor Harry J. Deitz Jr. in May that highlighted the family's celebrity status.
The paper first wrote about the couple when Kate Gosselin was on bed rest with the sextuplets, but Deitz explained that the Gosselins have since outgrown their local fame.
"We'd love to tell their real story -- the truth about what life is like raising that family," Deitz wrote. "And I don't mean what you see on a made-for-prime-time television show. But we don't have the national exposure they seem to want or need. And we don't pay."
Sheer said those who have not endured a divorce are unaware of how painful and difficult it can be, especially when it comes to solo child rearing.
"On my blog I call [single parenting] one of the hardest jobs you can do in life," she said. "I think some women take their husbands for granted and don't realize how nice it is to have someone there to pitch in when you need a minute for yourself."
The show dealt with some of that when it showed Kate on the night's second episode wrangling with a tent to fulfill her children's wish to camp out.

The children lamented that their mother was far from skilled at the task and that their father was not there. The moment gave Kate the opportunity to speak on the challenges her newfound independence may bring.
"My new attitude," Kate said, "is that I am going to do new things that I have never done before."
E-mail to a friend

All About Jon & Kate Plus 8 • Jon Gosselin • Kate Gosselin • Reality Shows