By Alan Duke
CNN





LOS ANGELES, California (CNN) -- Paula Abdul's fans are all atwitter about the possibility their idol may not be invited back for another season as a judge on "American Idol."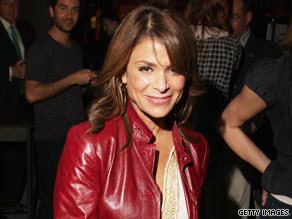 Paula Abdul's manager tells a newspaper she may not be returning to "American Idol" next season.
The Los Angeles Times quoted Abdul's new manager as saying, "Very sadly, it does not appear that she's going to be back on 'Idol.' "
David Sonenberg on Friday told the newspaper it was "unnecessarily hurtful" to Abdul that she has not received "any proposal whatsoever" from producers, even though the judges will start auditioning contestants for the next season on August 6.
"I find it kind of unconscionable and certainly rude and disrespectful that they haven't stepped up and said what they want to do," Sonenberg said.
The former pop star -- who is "not a happy camper" -- is looking for alternative shows, he said.
"I think at this point we're going to be considering everything, including some kind of a competition show. She has tremendous ideas for a whole variety of shows," said Sonenberg, according to the newspaper.
Sonenberg's office told CNN he was unavailable for comment Monday.
Don't Miss
"American Idol," produced by FremantleMedia and 19 Entertainment, airs on Fox and recently ended its eighth season.
A spokesman for Fox said the TV network would not comment on Abdul's contract.
"Idol" host Ryan Seacrest, who signed a new $45 million, three-year contract last week, used his Twitter account -- RyanSeacrest -- to send a message of support to Abdul:
"I connected with @paulaabdul today .. .love u PA can't imagine doing idol without u!!"
Fans of the singer-dancer flooded Twitter with messages of support -- and warnings to "American Idol" producers -- over the weekend:
"You are the core heart of American Idol!!" one said.
Another said: "PAULA MUST BE BACK ON IDOL. If not expect her fans & supporters 2 stop watching AI. She is CRUCIAL 2 the show!"
Abdul responded to her fans' messages over the weekend with her own tweets:
"I'm actually moved 2 tears upon reading the enormous amount of tweets showing me your kindness, love, & undying support. God bless all of you!"
"I miss you all too- your support means the world to me. I have the best fans ever! xoP I really am speechless... your comments all make me remember why I love doing what I do. I truly am moved."
E-mail to a friend

All About Paula Abdul • American Idol • Ryan Seacrest