By Todd Leopold
CNN





(CNN) -- The Emmy Awards smiled on some unlikely comedy series nominees Thursday morning, giving nominations to "Family Guy" and "Flight of the Conchords" and leaving out such mainstays as "Two and a Half Men."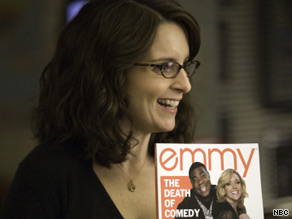 "30 Rock," starring Tina Fey, earned 22 nominations to lead all shows.
"Family Guy," the Fox series that muscled its way back on the air in 2005 after proving popular in reruns and on DVD, received just two nominations -- but one of them was for best comedy series, making it just the second animated series to compete in the best comedy series category. Not even "The Simpsons" can claim that honor; the other animated series to receive a nomination was "The Flintstones" in 1961.
"We're thrilled to see 'Family Guy' and 'American Dad' recognized by the Academy," said creator Seth MacFarlane in a statement. ("American Dad," another MacFarlane show, was nominated for best animated program.) "And the idea that 'Family Guy' can transcend animation and be honored as one of the best comedies on television is truly rewarding."
"Flight of the Conchords," the offbeat HBO series about two struggling musicians, received six nominations, including a nomination as best comedy series and another for star Jemaine Clement. (Co-star and musical partner Bret McKenzie must be wondering who he offended.)
The series with the most nominations were "30 Rock," which is up for 22 Emmys, and "Mad Men," which earned 16 nods. Both were big winners last year, taking best comedy series and best drama, respectively.
The HBO movie "Grey Gardens" earned 17 nominations.

Gallery: See the nominees in top categories »
Though many of the nominations turned out as expected by handicappers, the awards did throw a few curves -- mainly in what was left out.
"Desperate Housewives," whose actresses usually nab at least one nomination in the lead comedy actress category, was shut out in that field, as well as for best comedy series. In fact, the show earned just two nominations -- one for a guest spot by Beau Bridges, the other for best hairstyling.
America Ferrera, a former winner for best actress in a comedy, also failed to pick up a nomination. The show earned just two total.
Don't Miss
Also coming up empty in the major categories: "Grey's Anatomy," which failed to earn nominations for best drama, best actor in a drama or best actress in a drama. However, Chandra Wilson -- who was one of the presenters Thursday morning -- did pick up one of "Grey's" five nods, for best supporting actress in a drama.
Wilson also received a nomination for lead actress in a miniseries or movie for "Accidental Friendship."

Watch Wilson and Jim Parsons announce the nominees »
Despite a push by critics and fans, "Battlestar Galactica" failed to place in any major categories. It did get five nominations, including one for directing. "True Blood," a breakout hit for HBO, also came up empty in major categories.
And in a sign that Emmy voters have already forgotten one-time powerhouses, two shows that ended with well-reviewed finales -- "ER" and "Boston Legal" -- received little credit from the television academy. "ER" earned just two nominations and "Boston Legal" received four.
Another show ending a stellar run, "The Shield," was shut out entirely.
On the other hand, such performers as Sarah Silverman ("The Sarah Silverman Program"), Simon Baker (the breakout hit "The Mentalist") and Jim Parsons ("The Big Bang Theory") all earned nominations.
Parsons, who presented the nominations alongside Wilson, was shocked to hear his own name. "This is some sort of trick," he said. Blog: Other nominees respond to being selected
Still, the front-runners must be considered last year's winners. "30 Rock" once again dominated the nominations, with picks for best comedy series, best actor in a comedy (Alec Baldwin) and best actress in a comedy (Tina Fey). Moreover, of the five nominations for outstanding writing for a comedy series, "30 Rock" received four. (The other went to "Flight of the Conchords.")
Actress Jane Krakowski, one of "30 Rock's" many nominees, paid tribute to the show's scribes and cast in a statement.
"The writers have created an amazing character in Jenna which I just love to play," she said. "I am blown away by the number of nominations the show has received and thrilled for everyone."
"Mad Men," last year's best drama, picked up nominations for best drama, actor Jon Hamm and actress Elisabeth Moss. Its writers dominated in the same way as the "30 Rock" writers, with four of the five nominations for outstanding writing for a drama series; the fifth nod went to "Lost."
"The Amazing Race," a regular winner among reality competitions, was once again nominated, along with "American Idol," "Dancing With the Stars," "Project Runway" and "Top Chef." Six reality show hosts were nominated: "Race's" Phil Keoghan, "Idol's" Ryan Seacrest," "Dancing's" Tom Bergeron, "Runway's" Heidi Klum, "Chef's" Padma Lakshmi and Tom Colicchio, and "Survivor's" Jeff Probst.
In the category of best reality program, nominations went to "Antiques Roadshow," "Dirty Jobs," "Dog Whisperer," "Intervention," "Kathy Griffin: My Life on the D-List" and "MythBusters."

HBO was the leader among all networks, with 99 nominations. Among the broadcast networks, NBC earned 67 Emmy nominations, followed by ABC with 55.
The 61st annual Primetime Emmy Awards will air Sunday, September 20, on CBS. Neil Patrick Harris will host. The show will air from Los Angeles' Nokia Theater.
E-mail to a friend