By Todd Leopold
CNN





(CNN) -- Dave Howe, the president of the Sci Fi Channel, knows that many people will be upset.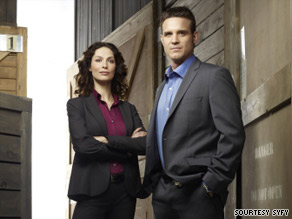 "Warehouse 13" "epitomizes the new Syfy," says the channel's president.
On Tuesday, the Sci Fi Channel changes its name to Syfy -- pronounced "sigh-fie," the same as the current name -- a moniker that's attracted its share of mockery since its announcement three months ago. The idea is to expand Sci Fi's audience, but some members of that audience have expressed their displeasure.
"Perhaps the most ill-advised branding move since New Coke," wrote CNet's "Digital City" blogger Dan Ackerman.
Even some of Sci Fi's own SciFi.com commenters were dismissive.
"This is a terrible idea," Grateful Josh wrote.
"You mean the announcement wasn't an April Fool's joke?" Sue Lee asked, adding that the channel should have changed its name to "FRAK," a common expletive on Sci Fi's popular "Battlestar Galactica." Some critics have taken to pronouncing the new name "Siffy."
Howe says "we're not worried," despite the old admonition that "if it ain't broke, don't fix it."
"We needed a unique and distinct brand name that we can own for the future, that works in the multiplatform, on-demand world," he said, adding that "Sci Fi" isn't a brand name, it's "a genre name."
"Syfy," he said, "gives us a unique brand name.
"The last thing we want to do is alienate our core audience," he added. With the new name, shows such as "Galactica" can be exposed to a wider audience, one not scared away by all that "Sci Fi" connotes ("space and aliens and the future," in Howe's words).
And, of course, it's about the bottom line, which has been true for a number of cable networks over the past few years.
There was a time when the name of a cable network said it all. "A&E" aired arts and entertainment. "TLC" was about learning, the "L" in its original name, "The Learning Channel." "Bravo" was devoted to fine arts.
But over the years, as the cable universe has grown, each network has sought to grab a distinctive slice for itself in hopes of bringing in viewers -- and money.
Some have changed names entirely, such as The Nashville Network, once a country music channel that became TNN and then Spike, devoted to younger males.
Others have simply refocused their branding, as in the case of USA -- once a general-interest hodgepodge -- and its slogan, "Characters Welcome," which has allowed the network to cast a wide net with original shows such as "Monk" and "Burn Notice" and reruns of popular dramas such as "House" and "NCIS."
Marketing expert Rachel C. Weingarten, who was part of the team that helped turn TNN into Spike, says the network's old name wasn't attracting the key male demographic or the advertiser dollars that came with it.
"With the way it was, nobody was excited," she recalled. Changing the name to Spike gave the network visibility and -- thanks to more programming of action movies and combat-oriented shows -- more appeal to men.
"Viewers weren't embarrassed to have a beer and ... talk about [the shows]," she said.
She praised TLC, USA, HGTV and the Turner networks of TNT and TBS for cleverly and pointedly redefining themselves. (The latter two are units of Time Warner, as is CNN.) Having initials that can mean everything -- or nothing -- helps, she adds. "When you have really clever initials, you can do what you want."
However, she cautioned, she's not convinced that changing Sci Fi into Syfy is a good idea.
"I think they're trying too hard," she said. "Also, the timing's unfortunate." With the struggling economy, advertisers are taking more of a wait-and-see approach to buying spots, she said, and so the changeover may not get the marketing support it should.
Howe, however, says that changing the name was a necessary move. With Sci Fi more popular than ever and planning a major expansion into international markets, the network needed a name that wasn't so confining.
"This was a two-year exercise," he said. The new name, he says, needed to be usable all over the world in Internet URLs, brand extensions and merchandising, and "the only way to do that is to create an empty name.
"We explored them all," he said. "We wanted a word that was uniquely ours," while not straying too far from the sound of "Sci Fi."
As part of Syfy's launch, the network has a new slogan -- "Imagine Greater" -- and new programming on the way. The flagship, which premieres Tuesday, is "Warehouse 13," about two Secret Service agents who explore the paranormal and supernatural. It's been described as combining elements of "The X-Files" and the Indiana Jones films.
" 'Warehouse 13' epitomizes the essence of the new Syfy," Howe said. He hopes that the show, along with other programs, helps "continue the journey we're already on," skewing younger and more upscale. He observed that the network is already gender-balanced, with an audience that's 55 percent male, 45 percent female.
Seton Hall advertising professor Walt Guarino thinks the network is making a good move.
"I do not think that the SciFi Channel will lose an ounce of equity by changing to Syfy," he said via e-mail. "I think the name change is a reason to create new awareness to the brand. However, given their appeal to such a defined audience, I don't see many new people 'entering their tent' as a result of this name change."
Indeed, added Kelly O'Keefe, managing director of Virginia Commonwealth University's Brandcenter communications school, Syfy is taking a risk.
"It waters down what has been a very focused brand," he said. He understands the desire to expand the audience but says that changing a successful concept often loses customers -- and allows competitors to jump into the fray.
He points to the retailing world to make his point. Circuit City was once the country's strongest electronics retailer; when it diversified with its Carmax used-car subsidiary, the lack of focus allowed Best Buy to take over the electronics market. Similarly, companies can lose the goodwill of its most devoted customers by being short-sighted, he says, noting that Starbucks suffered a backlash when it stopped serving decaffeinated coffee in the afternoons.
"You can look at the bottom line and say it's a justified decision ... but that's where sometimes a short-sighted decision may tarnish the brand," he said. "If Sci Fi owns the geeky, science fiction-loving audience, it has to be careful to hold on to that customer."
Still, Howe is unfazed. He believes that "Sci Fi" was a barrier to possible viewers and that if the programming is good, the viewers will follow.
"We think it will be recognized enough [for new viewers] make the leap," he said.
And then, will people pronounce the name correctly?
"We've heard about this 'Siffy' thing, but very few people pronounce it 'Siffy,' " he said. "It's not something we're concerned about."
E-mail to a friend

All About SCI FI Channel