LOS ANGELES, California (CNN) -- Veteran actor Karl Malden, who won an Academy Award for his role in "A Streetcar Named Desire," has died at age 97, his manager said Wednesday.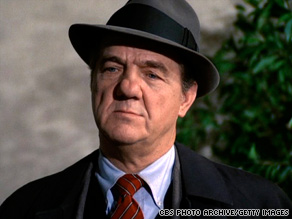 Karl Malden in "The Streets of San Francisco" in 1974. Malden was nominated for four Emmys for the series.
Malden died in his sleep about 2:30 a.m. Wednesday, said his manager, Bud Ross.
Malden appeared alongside Marlon Brando in two of director Elia Kazan's classic films of the 1950s -- "A Streetcar Named Desire" and "On the Waterfront." He won the best supporting actor Oscar for "Streetcar," which was released in 1951, in 1952 and was nominated for his role as a priest crusading against crooked union bosses in "On the Waterfront."
Ross said he did not know the cause of death.
"It could be a combination of things," Ross said. "He was 97 years old."
Born Mladen George Sekulovich in Gary, Indiana, the bulb-nosed actor made his New York stage debut in 1938 and first appeared in films in the 1940 melodrama "They Knew What They Wanted." After serving in the Army Air Corps in World War II, he made his mark in the New York production of "Streetcar," by Tennessee Williams.

Watch Malden talk about why he got into acting »
Malden also did extensive work in television, starring with Michael Douglas in the police drama "The Streets of San Francisco" from 1972-77. He was nominated four times for Emmys for the show, and won a supporting-actor Emmy for his part in the miniseries adaptation of the true-crime bestseller "Fatal Vision" in 1985.
His other well-known screen roles include his performances in "Patton," in which he played World War II Gen. Omar Bradley alongside George C. Scott's title character; the steamy "Baby Doll," another Elia Kazan-Tennessee Williams collaboration; and "Gypsy."
Malden was also famous for a series of television ads for the American Express card, in which he advised viewers, "Don't leave home without it."

Watch Malden talk why he took such diverse roles »
A memorial service is expected to be held within the next three to four weeks, Ross said.
Malden was the president of the Academy of Motion Picture Arts and Sciences from 1989 to 1992. The Academy is best known for its annual awards, the Oscars.
Malden's "Streetcar" Oscar had its own mini-drama. In 1985, he sent it to the manufacturer in Chicago for replating. But he discovered the award sent back to him was a fake in 2006, when the original appeared for sale on eBay. The Academy sued the sellers, Randy and Matt Mariani, who eventually returned the award.
In 2004, he received the Screen Actors Guild Life Achievement Award.
Malden was born on March 22, 1912, and grew up in Gary. He broke his nose twice playing football in high school, where his athleticism won him a scholarship to Arkansas State Teacher's College in Conway.
After being forbidden by his basketball coach to appear in a school play, Malden left college and began playing semi-pro basketball. He later worked in the steel mills of Gary to save money for drama school.

When his acting career began, Malden took his grandfather's first name and rearranged the spelling of his own first name to make his professional last name. He said he changed his name, "to fit theater marquees."
One of Malden's last acting roles was in 2000, according to IMDB.com. He played a priest in an episode of "The West Wing."
E-mail to a friend

All About Obituaries