(CNN) -- Infomercial pitchman Billy Mays died at his Tampa, Florida, home Sunday morning, authorities told CNN.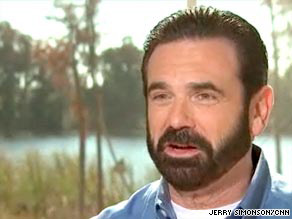 OxiClean pitchman Billy Mays died Sunday morning at his home in Tampa, authorities said.
The 50-year-old known for his shouting OxiClean ads was pronounced dead at 7:45 a.m. The Hillsborough County medical examiner will perform an autopsy, Tampa police Lt. Brian Dugan said.
Mays was on the US Airways flight from Philadelphia, Pennsylvania, to Tampa on Saturday that had a hard landing at Tampa International Airport when the plane's front tire blew out. There were no reported injuries on Flight 1241, US Airways told CNN.
According to a local Tampa TV station, Mays said: "All of a sudden as we hit you know it was just the hardest hit, all the things from the ceiling started dropping. It hit me on the head, but I got a hard head."
Airline spokesman Jim Olson told CNN Sunday there were no reported passenger injuries from flight 1241. The airline vowed to "cooperate fully" with authorities in the investigation.
"We were very sad to learn of Billy Mays' passing and our thoughts and prayers go out to his family," Olson said. Tampa officials say the Medical Examiner's Office expects to complete an autopsy by Monday afternoon. In a statement, Deborah Mays said that although "Billy lived a public life," the family does not plan immediate public statements about his death.
Mays was a spokesman for Orange Glo and detergent OxiClean and appeared in commercials for other products. iReport.com: Billy Mays imitator meets the real thing
He is featured on the reality TV show ''Pitchmen'' on the Discovery Channel, which follows pitch people in their jobs.
"It is with incredible sadness that we have to report that Billy Mays died in his sleep last night," said a statement from the Discovery Channel. "Everyone that knows him was aware of his larger-than-life personality, generosity and warmth. Billy was a pioneer in his field and helped many people fulfill their dreams. He will be greatly missed as a loyal and compassionate friend. Our deepest sympathies go out to his family at this time of incredible loss."
E-mail to a friend

CNN's Chuck Johnston contributed to this report.