By Lisa Respers France
CNN





(CNN) -- In the beginning, it was all about the children.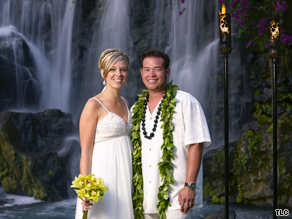 Kate and Jon Gosselin have found life in the spotlight difficult.
Before there was the hit reality show "Jon & Kate Plus 8," there were just Jonathan and Kate Gosselin, an information technology analyst and registered nurse marginally known as the parents of what was believed to be only the second set of sextuplets born in Pennsylvania.
Volunteers took shifts helping the young couple, who also had 3-year-old twin daughters at the time, in a home where schedules and detailed instructions were posted all over.
Then, television came calling. Blog: Watch tonight's show with CNN.com
In 2006, Discovery Health aired "Surviving Sextuplets and Twins." The program was about life in the Gosselin household, where having eight children -- all under age 4 at the time -- was beyond hectic.
"It is not Jon and Kate's intention to sugarcoat their lives," says a summary of the original special, produced by Figure 8 Films. "While they would not change one thing about their family and are totally in love with every single child, they do admit that there are many days when they truly feel like giving up and must rely on one another to get to the next day."
The success of that initial show spurred a follow-up, "Sextuplets and Twins: One Year Later" which led to the wildly popular TLC series "Jon & Kate Plus 8."

Watch why the fun faded on "Jon & Kate" »
Since "Jon & Kate Plus 8" premiered in 2007, the super-sized family has morphed into a multimillion-dollar empire, complete with merchandise, books and a loyal fan base that follows their every move.
'Showbiz Tonight'
Showdown Monday! Rihanna scheduled to testify against Chris Brown in court! Jon & Kate reveal their dramatic announcement! And "Showbiz Tonight" will be the ONLY entertainment news show with every late-breaking development.
Tonight, 11 p.m. ET/PT on HLN

But such success comes with a price, as the Gosselins learned after allegations of infidelity and news of marital woes became public. On Monday night, the two are scheduled to make an "announcement." Rumors have been flying as to its nature since TLC released an ad promoting the show late last week.
According to People.com, divorce papers were filed Monday at the Bucks County Courthouse in Doylestown, Pennsylvania.
"The thing about fame is that it looks so glamorous and so easy, but people don't see the work involved," said Cooper Lawrence, author of "The Cult of Celebrity: What Our Fascination with the Stars Reveals about Us." "That's the biggest misnomer about fame, that you sort of stumble into it and it's all shopping, jewels and being treated so well. But they don't see behind the scenes."
Lawrence, who holds a degree in psychology, said people aren't prepared for the fame and notoriety that come along with reality television.
We live in a generation where narcissism is running rampant, Lawrence said, with people pursuing fame as a goal. And when the cameras start rolling, all types of things can come to light, she said.
"Most couples that end up on reality shows don't stay together afterwards and the reason is because there were things in your marriage that you weren't addressing and now it's amplified on the screen," Lawrence said.
"Then they have these moments when they pull the spouse aside in a confessional and the spouse says what they are really thinking and they are saying to us what they would never say to their significant other," she added. "I think it's very jolting for a spouse to hear what the person is really thinking."
The tension between the Gosselins this season has helped shift the attention away from the cuteness of the kids and on to the parents, who at times barely seem to acknowledge each other.
Living in a fishbowl has clearly been arduous. They have complained about the invasion of the paparazzi and the challenges of celebrity.
"I'm the more social of the two of us," Jon told People magazine when news of their marital strife broke. "Yet I'm having the harder time adjusting to being in the public eye 24/7."
At first glance, the couple would seem unlikely stars.
According to an early version of the family's Web site, sixgosselins.com, Jon and Kate met in 1997 at a picnic.
"I never believed in 'love at first sight,' but this came really close," Kate wrote on the site. "Jon was walking across the grass and I saw him and was instantly intrigued! Our eyes met and continued to meet from across the way all afternoon. Finally, I arranged for someone to introduce us ... and the rest is history!"
Kate also wrote that after marrying in 1999 she was anxious to have children right away while Jon was not.
After Kate's diagnosis of polycystic ovarian syndrome, the couple used fertility treatments to conceive twin daughters Cara Nicole and Madelyn "Mady" Kate, born in 2000.
Their joy was so great with the girls that they once again elicited science's help to have another baby. They ended up with three boys and three girls: Alexis, Aaden, Collin, Leah, Hannah and Joel.
Daniel Minuchin, a New York-based family therapist, said having a family is stressful for most couples, let alone one that is being watched by millions of viewers.
"Inviting a film crew and most of the country into your living room, I would think that would be an added stress," he said. "Most families have some problems that are there, so magnifying them is a problem."
There are only two people who know for sure how much of a toll fame and celebrity has taken on the Gosselins -- Jon and Kate themselves. Perhaps it is their past openness that has left some fans feeling like they are entitled to know.

In speaking to CNN earlier this year about the popularity of television shows centered around families with multiples, Bill Hayes, founder of Figure 8 Films, which is the production company behind "Jon & Kate Plus 8," said the couple's willingness to let the public in had contributed to the series' success.
"Most of us struggle with our family lives," he said. "It's not easy typically in most families. We're fortunate that Jon and Kate are very emotionally honest and they come clean."
E-mail to a friend

All About Discovery Communications Inc. • Jon & Kate Plus 8 • Reality Shows