By Terry Frieden
CNN





WASHINGTON (CNN) -- Thirty-five years after the man known to a generation of television viewers as Inspector Lewis Erskine ended his run as star of "The FBI," he finally became a special agent and got his badge back.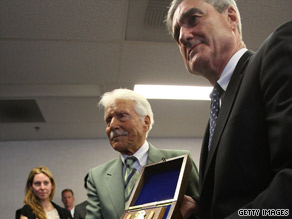 Efrem Zimbalist Jr., center, accepts the Honorary Special Agent Award from FBI director Robert Mueller.
Efrem Zimbalist Jr., now 90, accepted the honor from FBI director Robert Mueller on Monday at a ceremony in Los Angeles, California.
"We consider the Honorary Special Agent Award the highest honor that we bestow on individuals outside the bureau, and today we are proud to present it to you," Mueller said. "For nine years, Inspector Erskine wore the FBI's badge. Today we would like to present you with the real thing."
A frail but alert Zimbalist was thrilled.
"I feel humbled to receive this fantastic award," Zimbalist said. "I'm hugely honored and grateful for all of it."
"The FBI" television series aired on ABC from 1965 to 1974 and helped burnish the image of the bureau as the world's premier law enforcement agency.
"Efrem's character embodies fidelity, bravery and integrity -- so much so that he inspired a generation of future FBI employees, many of whom pursued a career in the bureau because they watched 'The FBI' series when they grew up," Mueller told a gathering of family, friends and past and present FBI officials.
"In those days, he may well have been the bureau's best and most effective recruiter," Mueller said.
Zimbalist said he later came to recognize the influence he once wielded.
"The most meaningful and fulfilling to me was meeting agents over the years who came up to me and said they went into law enforcement because of our show," he said.
Mueller praised the retired actor for his continuing efforts for the FBI through the years, including narrating recruiting videos, making appearances at FBI functions and raising money for families of agents killed in the line of duty.
Although his lead role in the series may be his best known, Zimbalist's long career also included a lead role in the hit show "77 Sunset Strip." He also appeared several times in the Western "Maverick." His feature films include "Harlow," "Wait Until Dark" and "Airport 1975."
E-mail to a friend

All About Federal Bureau of Investigation