(CNN) -- Singing sensation Susan Boyle breezed through to the finals of the television show "Britain's Got Talent" after the audience on Sunday voted her semi-finals performance the best of the night.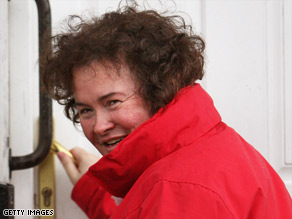 Overnight sensation Susan Boyle enters her home in West Lothian, Scotland, on May 8.
Her performance of "Memory" from the musical "Cats" earned her a standing ovation and a spot in next Saturday's finale.
The 47-year-old from Scotland wiggled her hips in a little jig when she heard the results.
"It was really good tonight," she said. "I've enjoyed every second. And I'd do it again."
Just before Boyle sang during her audition performance in April, the unassuming single woman with a loose mop of curly hair drew snickers from the audience, including notoriously hard-to-please judge Simon Cowell.
The scowls and eye-rolling were replaced by wild cheers as soon as she sang the first line of "I Dreamed a Dream" from "Les Miserables." Cowell raised his eyebrows in surprise.
Her performance turned her into an overnight sensation across the globe, thanks to Web sites such as YouTube, and earned Boyle a string of television appearances.
Knowing that the audience was eagerly awaiting her semi-finals performance, the producers of the show saved her for the last of eight acts.

Watch Susan Boyle sing "Memory" »
Don't Miss
When the applause subsided, the judges showered her with praise.
"When the world was going through a pretty tough time and was looking for a bit of hope and inspiration, along came Susan Boyle to provide it," said Piers Morgan, one of three judges.
Cowell apologized for poking fun at her during the auditions stage.
"You are one special lady," he said. "You really are."

There are five semi-finals, and Boyle is one of a handful of singers. Her competition on "Britain's Got Talent" includes a belly dancer, street dancers, a burlesque dancer, a dog act and a wheelbarrow dancer.
Two acts from each semi-final will perform at a grand finale on May 30.

E-mail to a friend

All About Susan Boyle • Britain's Got Talent