By Jack Hannah and Denise Quan
CNN





LOS ANGELES, California (CNN) -- So much for the phrase, "Nice guys finish last."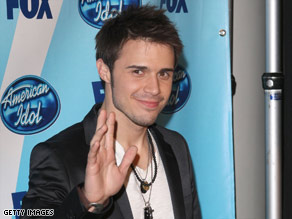 Kris Allen gives a wave in the Nokia Theater press room during the "American Idol" finale Wednesday.
In a stunning upset, sweet-faced Kris Allen claimed victory over glam-rocker Adam Lambert in an "American Idol" showdown that received nearly 100 million votes from viewers.
Lambert, a 27-year-old former understudy in the touring production of "Wicked," was heavily favored as the frontrunner throughout Season Eight.
Allen, a 23-year-old missionary from Conway, Arkansas, had built up a loyal following that seemed to grow larger as the weeks progressed.
"I think there was a point where I was like, 'why am I not in the bottom three?'" Allen told CNN after his big win. "I think there was times where I definitely deserved to be."
In a two-hour finale that featured this year's finalists performing with the Black Eyed Peas, Steve Martin, Cyndi Lauper, Lionel Richie, Queen Latifah and Jason Mraz, a guitar-wielding Allen did a duet with Keith Urban on the country superstar's new single, "Kiss a Girl," while Lambert thrilled fans by donning a pair of platform boots and joining '70s rock band KISS in an over-the-top medley, complete with a pyro show.

See photos from the finale »
Backstage
KISS co-founder Gene Simmons was asked whether Lambert would be invited to join the band on the road this fall. "No," said Simmons. "He'd be better off joining Queen."
Indeed, Lambert seemed right at home when he and Allen joined Queen guitarist Brian May for a spirited rendition of "We Are The Champions." Queen has been in the market for a singer (the group hasn't had a permanent frontman since the flamboyant Freddie Mercury died in 1991). Perhaps that's an announcement somewhere down the road.
As for Lambert, while he had so much fun "playing dress-up" with Kiss, performing with Queen was "the period at the end of the sentence ... more of an exclamation point."
Judge Simon Cowell told the San Diego native during Tuesday night's show that he was "one of the best, most original contestants we've ever had on the show." After Wednesday's finale, Lambert talked about his experience on the show.
"I think, maybe, I opened people's eyes up a little bit to something different. I'm a little different, and it was really exciting to have the support of the country," said Lambert. "Just to be able to take risks and be celebrated for that felt really, really good."
It came as no surprise that when Allen was announced as the new "American Idol," his dad was crying in the audience. Although the judges initially seemed shocked the humble, coffeehouse-style singer-songwriter had made it to the final two, Allen told CNN that he felt he deserved to be the new Idol.
"You don't have to have the huge voice. Obviously, you don't have to have, like a swagger, about you because I don't feel like I do," Allen said. "I'm confident in what I know how to do, but it's very subtle."
Twenty-five minutes after the show ended on the West Coast, a news release hit our in-boxes touting his new "No Boundaries" single, co-written by judge Kara DioGuardi.
Outside the Nokia Theater
Former supermodel Janice Dickinson was throwing a tantrum in front of an amused crowd.
When a 15-year-old girl asked how she felt about Allen's win, she snapped, "I wanted Adam to win!" The teen's mother was appalled. iReport.com: What did you think of America's choice for "Idol"?
We also caught up with "Baywatch" star David Hasselhoff before he stepped into his limo after the performance.

"It doesn't matter who won," he told CNN. "I was just happy to be part of a really wonderful, wonderful night." He looked like he wanted to cry, as his daughter shouted, "Dad, let's go!"
With all the chatter about which of the four judges may be leaving the show, who knows? Maybe The Hoff will be critiquing the aspiring singers of Season Nine.

E-mail to a friend

All About American Idol • Kris Allen • Adam Lambert • Simon Cowell