NEW YORK (CNN) -- Actor Kiefer Sutherland has been charged with misdemeanor assault after he was accused of head-butting fashion designer Jack McCollough at a New York nightclub early Tuesday, police said.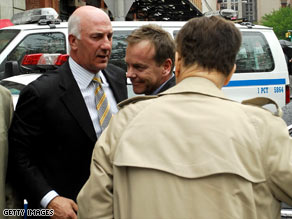 Kiefer Sutherland, center, turns himself in to police in New York on Thursday.
Sutherland was charged after he arrived at a New York police precinct Thursday afternoon to answer investigators' questions about the incident.
McCollough claims that he was "the victim of a vicious, violent, unprovoked assault," according to a statement from his publicist.
Sutherland and his publicist have not responded to several calls for comment.
A police statement issued this week did not name Sutherland or McCollough but identified those involved only by sex, race and age:
"Male white 42, speaking to female white when a male white 30 walked in between them to get to the bar. There was a verbal altercation and the suspect head butted the victim, causing injuries to the victim's nose."
Sutherland is 42, and McCollough is 30.

Watch an expert analyze Sutherland's alleged behavior »

Media reports have said the woman involved was actress Brooke Shields.
"Anyone who knows Jack McCollough knows that he would not hurt a fly," McCollough's spokesman said. "All we can say at this point is that he was the victim of a vicious, violent, unprovoked assault and that the matter is in the hands of the authorities."
E-mail to a friend

CNN's Doug Ganley, Marc Balinsky and Rob Frehse contributed to this report.
All About Kiefer Sutherland • Brooke Shields