By Lisa Respers France
CNN





ATLANTA, Georgia (CNN) -- Comedienne Margaret Cho knows a great deal about Hollywood's obsession with body image.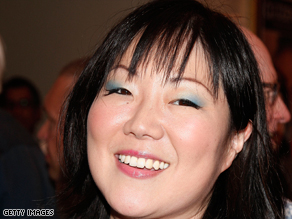 Margaret Cho co-stars in an upcoming Lifetime Television series, "Drop Dead Diva."
The once-zaftig actress is co-starring in a new series for Lifetime titled "Drop Dead Diva" about a brilliant plus-size attorney who finds her body inhabited by the soul of a shallow wannabe model.
The Sony Pictures Television-produced show debuts July 12 and stars Broadway actress Brooke Elliott as lawyer Jane Bingum.
Cho plays Bingum's gal Friday, Terri, and it's a more serious role than fans might expect of Cho, known for her irreverent, and often political, humor.
She recently spoke with CNN about her new project, how President Obama helped inspire her upcoming music album (seriously, she really does have a music album coming out) and why some folks in the gay community are a little peeved with her.
CNN: What drew you to this particular character in "Drop Dead Diva"?
Margaret Cho: I thought, what a wonderful part. To me, it's kind of like Moneypenny in James Bond. [My character] gives Jane all of her assignments and gets her on track with this amnesia story that she gives her.
It's a comic foil, but I also kind of help her back into the world, and I love that sort of midwifery character. It's very fun.
CNN: You've talked before about your less-than-positive experiences working on a sitcom ["All-American Girl"]. Any apprehension about doing this series?
Cho: I've been back to TV doing stuff now for a couple of years. I have a lot more confidence and a lot more awareness about what I would like to do. And I think television has really changed in a good way.
This show, I absolutely love. It's really funny, but it's also touching. It has a lot of heart, and I think the acting is really incredible. I'm really proud to be a part of this show.

Watch Cho talk about her new series »
CNN: How do think television has changed?
Cho: There's more diversity in general. There are like two more Asian people on television now then there was 10 years ago, and that's pretty impressive. Before, it was just me and Connie Chung, but now there's me, Sandra Oh and Connie Chung.
Wait, Connie Chung's not on anymore, so there's Ann Curry. She's kind of Asian-adjacent.
CNN: I loved your VH1 reality show, "The Cho Show." Your parents were great on that.
Cho: They're so famous now among Koreans. They can't go anywhere anymore!
CNN: You are such an icon in the gay community, but some people took you to task for an interview with The New York Times where you said you identified yourself as gay, although you are married to a man.
Cho: I identify as queer. I've had a lot of same-sex relationships in my life, and I guess it would be bisexual, but to me it's more appropriate to say I am queer. I am also attracted to transgender persons, and bisexual doesn't cover it. I feel like being queer is my politics, it's my life; it's the community I do the most political work in, for the gay, lesbian and the transgender community.
Being married made it much more important for me to fight for gay marriage, because I believe marriage is vital for us as people.
CNN: How important is it to have a show like "Drop Dead Diva" which features a main character who is plus-sized?
Cho: I don't think of her as plus-size. I just think of her as beautiful.
I think people are going to fall in love with Brooke and the character Jane and realize that beauty comes in all sizes. That's something we are trying to promote with the show.

Watch Brooke Elliott talk about her character »
The idea of being plus-size is somewhat ridiculous, because most women are. I mean, I am, and most women are.
CNN: You, plus-size? You are so tiny!
Cho: But I'm not a size 4, and that's the standard in Hollywood. When you look at women in movies and TV, it's an unrealistic view of what women really look like. With the show, we are promoting a real woman who is beautiful with real curves, has a real attitude and is fabulous.
CNN: You make so many people laugh. What makes you laugh?
Cho: I'm kind of crazy about "Flight of the Conchords" right now, and I love Sarah Silverman. I love music and comedy, and that's my new my passion, trying to do some funny songs. I love Weird Al Yankovic, and he's kind of my hero, so that's the direction I want to go in right now.
CNN: You have an album coming out next year. What's the title?
Cho: "Guitarded," because it's just so guitarded and silly. There are songs on the album that are super dirty and super silly.
I did so much hard-hitting, political critique humor for so many years, and now I feel like the world has changed a lot, especially with Obama in office. I feel like I don't have to be as angry with the government and the status quo anymore.

CNN: Are there any song titles you can share with us, keeping in mind that we are trying to be family-friendly here?
Cho: Then, no, I don't think so. I think people are going to have to buy the album if they want to know titles.
E-mail to a friend

All About Margaret Cho • Stand-up Comedy • Music • Lifetime Entertainment Services Inc.