By Jack Hannah
CNN





LOS ANGELES, California (CNN) -- Anoop Desai says he was comfortable with his "geeky" image on "American Idol." Lil Rounds says her soulful singing is what made her unique -- that and her name, of course.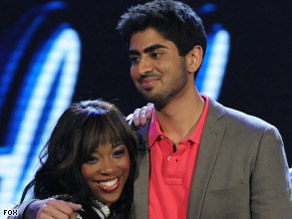 Lil Rounds hugs fellow "American Idol" contestant Anoop Desai on Wednesday's show.
Desai and Rounds were eliminated from "Idol" on Wednesday. The judges used the save option last week to keep Matt Giraud in the competition, so the contestants with the two lowest vote totals this week were sent packing. Five contestants remain: Adam Lambert, Kris Allen, Matt Giraud, Allison Iraheta and Daniel Gokey.
Judge Simon Cowell described Desai's performance of "Dim All the Lights" on Tuesday's program as "mediocre at best." In an interview with CNN on Friday, the Chapel Hill, North Carolina, native said was disappointed about his elimination and felt he had a few more "good weeks" left in him.
"I pride myself on being versatile," Desai said. "Sometimes, you're sort of forced to fit yourself into a niche that the audience or the judges want to see."
"I don't think I showed everything I can do."
Though his run on "Idol" is over, Desai says he's grateful to have made it into the top seven in the FOX competition. He says that his fellow contestants would describe his image as "nerdy-chic" and that perhaps audiences had a difficult time matching his "geeky" image with his pop/R & B singing style -- a style, he feels, he has a future in.
"Even Kanye [West] is rocking sweaters and glasses and bow ties, so, you know, I can do that."
Don't Miss
Lil Rounds, whose take on Chaka Khan's "I'm Every Woman" on Tuesday was highly criticized by the judges, echoed Desai's disappointment about the elimination. But the mother of three says she's excited to go home and spend a couple of weeks with her children, and with the new puppy she says her husband bought for her.
The Memphis, Tennessee, native's departure means only one woman, 16-year-old Allison Iraheta, remains in the top five. Rounds says she's been keeping an eye on Iraheta since they began their "Idol" quest.
"She has been like my little sister," Rounds said. "I love her to death. I let her know right before I left: Represent the ladies, hold it down."
E-mail to a friend

All About American Idol • Pop Music • R&B