(CNN) -- A fugitive fired a shot at bounty hunter Duane "Dog" Chapman when he tried to apprehend him Tuesday night, the reality TV star told police.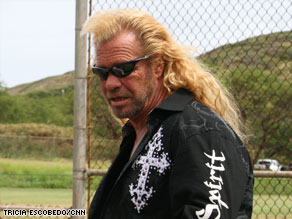 Duane "Dog" Chapman, shown in Hawaii this month, "does not carry lethal weapons," his Web site says.
Investigators in Colorado Springs, Colorado, did not find a gun, shell casings or bullet holes at the scene, but the man sought by Chapman was later arrested, according to Lt. David Whitlock, a spokesman for the city's police department.
Whitlock identified him as Hoang Nguyen, whose bail on an attempted murder charge had been revoked.
Chapman, who is based in Hawaii, told police that he and a local bondsman were trying to take Nguyen into custody at a Colorado Springs apartment complex when he fired one shot from a handgun at him, Whitlock said.
No one was wounded, the spokesman said.

Watch Chapmans describe chasing suspect »
Nguyen was jailed on the earlier attempted murder charge, but no charge related to Chapman's complaint has been filed so far, Whitlock said.
A statement posted Wednesday on Chapman's Web site said Nguyen escaped on a motorcycle after he "allegedly fired at least one shot at the Chapmans."
It said Chapman and his team were armed only with "pepper ball guns."
" 'Dog' does not carry lethal weapons," the Web site said.

Chapman's spokeswoman, Mona Wood, told CNN that "Dog the Bounty Hunter" was taping at the time, but that tape of the incident would not be released until the show airs.
The show, which chronicles the life of Chapman and his bounty-hunting family, has aired on the A&E Television Network since 2004.
E-mail to a friend

CNN's Jack Hannah contributed to this report.
All About Colorado Springs