(CNN) -- In the space of a few minutes and a few notes, unemployed Scottish charity worker Susan Boyle won over 3,000 fans. In the space of a few days and YouTube, she has grabbed the attention of millions.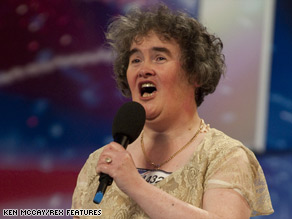 Susan Boyle sings "I Dreamed a Dream" -- and becomes a worldwide sensation.
And she also reportedly has A-list fans such as Demi Moore and Ashton Kutcher.
She didn't play or dress the part of a star on reality TV show "Britain's Got Talent," but within seconds of beginning to sing, the auditorium knew she was one.
Boyle, 47, told the show she had never been married or kissed, and lives in Scotland with her cat, Pebbles.
She still lives in her childhood home in Blackburn, West Lothian, and believes a promise to her mother, Bridget, who died at 91 in 2007, got her on the TV show.
The town, in northeast Scotland, is a former cotton and mining center that now attracts commuters to nearby Aberdeen, the key city for the region's North Sea oil industry.
"I wanted to fulfill a wish to my mother that I wanted to do something with my life. Not only that, but I felt like I had a bit more to offer,'" she told Scottish TV's "Five-thirty" show.
As she revealed her dream to be a professional singer -- as big as Elaine Paige -- many in the 3,000 crowd in The Clyde Auditorium, Glasgow, Scotland, were smirking or even laughing.
Seconds later, the first gasps emerged as she sang the opening lines of "I Dreamed a Dream" from "Les Miserables."
About five minutes later, a standing ovation and the praise of the judges, including the show's creator Simon Cowell, were ringing in her ears.
Judge Piers Morgan wrote on the show's Web site: "I watched her performance back again last night, I texted Simon in Hollywood: 'My god, Susan was even better than I remembered -- she's unbelievable.' He agreed, and I could almost feel his beady little eyes going 'KERCHING!' down the line from his new Beverly Hills mansion.
"For, unless I am a brainless aardvark -- which might, sadly, be true -- then this West Lothian villager is going to sell a lot of records once this series is over."
New fans also clogged the message board, many along the lines of Surfer1960's: "I am just blown away by her voice."
She was more critical, saying: "They say that television makes you look fat, and it certainly did. I looked like a garage."
Britain's Press Association reported Moore and Kutcher apparently watched Boyle on YouTube. About five million others have also tuned in to YouTube since Saturday's TV show.

Watch Boyle win over the audience »
PA reported Cowell is already looking at a record deal for her.
Cast recordings of the track have entered the UK's official midweek singles chart and the iTunes chart. And Boyle is the bookmakers' favorite to win the talent show. She is also among the most searched terms on Google, and her name has been a high trend on Twitter since her appearance.
Boyle told the show Web site she's beginning to enjoy a bit of star treatment: "It's lovely when all the kids stop me in the street to congratulate me."
Now back in her hometown, Boyle has received quite the welcome. The Washington Post reported that children in the town are clapping when she enters stores.
Her parish priest told The Washington Post she'd sing at gatherings and at church, but she has "never flaunted her voice," and this is the first time she's been publicly recognized for her talents.

And on Easter Sunday, churchgoers showed their own appreciation by giving her a standing ovation when she got to Mass.
"We let out a wee bit of a cheer for her," Boyle's parish priest, Ryszard Holuka, told The Washington Post. "We are quite proud of her."

E-mail to a friend