By Jack Hannah
CNN





LOS ANGELES, California (CNN) -- Scott MacIntyre's quest ended like so many others who were voted off "American Idol" before him.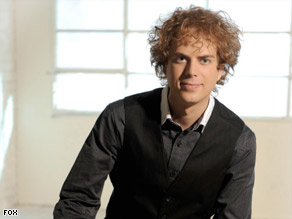 Scott MacIntyre was voted off "American Idol" Wednesday.
But the visually impaired, classically trained pianist's musical background is unique.
MacIntyre, 23, is the latest casualty in the singing competition, although the four judges appeared close to saving him.
He enrolled at Arizona State when he was 14 and graduated at the age of 19. He later earned a Marshall Scholarship to study music in the United Kingdom and earned a master's degree from the Royal College of Music and Royal Holloway, University of London. With an already decorated musical background, why pursue "American Idol"?
"I didn't want to be an academic forever," MacIntyre told CNN. "I just started performing my own music more and started realizing that this is really where my heart is."

Watch why MacIntyre didn't make the cut »
MacIntyre stepped away from the piano on Tuesday night and instead strapped on an electric guitar for his performance of "The Search Is Over," which the judges described at best as "over-ambitious" and at worst as "atrocious." Despite the reviews, MacIntyre sticks by his performance.
"I really wanted to bring out the guitar and surprise America," MacIntyre said. "I think it was the last thing anyone expected that the piano man would do on the show, and I had so much fun rocking out."
In contrast to last week's elimination round, where Simon Cowell had no qualms about not using the save option on Megan Joy, the four judges were split down the middle on saving MacIntyre, but eventually decided that it was time for him to go.
"For a second, I thought I actually would be saved, but you never know what's going to happen. It really meant a lot to me to know that the decision was as split as it was."
Afterward, MacIntyre says, Cowell approached him and said that the decision left the famously harsh judge "internally conflicted."

Now that his "American Idol" experience has come to a close, MacIntyre feels his very presence on the show is one of inspiration. He says he's gotten e-mails and letters from people who have been touched by his performances and his incredible journey.
"I really came to the show in hopes of sharing my story with the masses, and I feel like it's a story that if I kept to myself ... there would be something very wrong about that."
E-mail to a friend

All About American Idol