LOS ANGELES, California (CNN) -- Homer Simpson and his cartoon family soon will help you get letters, bills and packages to their destinations.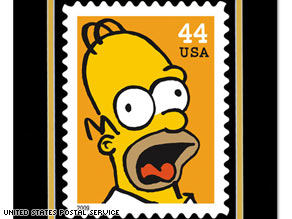 Homer Simpson is one of the "Simpsons" characters that will appear on a stamp.
On Thursday, the U.S. Postal Service revealed five first-class stamps featuring characters from the Fox animated series "The Simpsons" -- Homer, Marge, Bart, Lisa and Maggie -- that will hit a post office near you May 7.
"This is the biggest and most adhesive honor 'The Simpsons' has ever received," creator Matt Groening said.
The TV show, the longest running prime-time sitcom, was chosen from about 50,000 stamp subject suggestions submitted last year, the Postal Service said.
"We are emotionally moved by the Postal Service selecting us rather than making the lazy choice of someone who has benefited society," said "Simpsons" producer James L. Brooks.
Bart Simpson, who is known to collect stamps, "will serve as a great opportunity to interest youngsters into stamp collecting," said David Failor, executive director of stamp services for the Postal Service.
Failor added, "eyebrow-raising to say the least, this witty, well-written pop icon continues to irreverently satire its parody of a middle-class family as it lampoons American culture."
The new stamps can be seen and pre-ordered at USPS.com.
E-mail to a friend

All About The Simpsons (TV Show) • U.S. Postal Service