By Jack Hannah
CNN





LOS ANGELES, California (CNN) -- It's no secret that "American Idol" judge Simon Cowell often shows no mercy toward aspiring singers. Quirky, tattooed contestant Megan Joy Corkrey discovered that Wednesday night during the elimination round on the popular singing competition.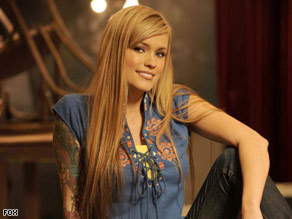 Megan Joy said she and Simon Cowell remain on good terms.
Megan Joy, who dropped her last name, told Cowell that she "didn't really care" about his criticisms of her Tuesday night performance of Bob Marley's "Turn The Lights Down Low," which he described as "boring, indulgent and monotonous."
Those comments sealed the 23-year-old single mother's fate.
Host Ryan Seacrest asked Cowell if he would be using the "save" rule in Megan's case. Cowell demurred: "Megan, with the greatest respect, when you said that you don't care -- nor do we. So I'm not going to pretend that we're even going to contemplate saving you," replied Cowell.
"I don't care that Simon didn't like that song," Joy said in an interview with CNN on Friday. "I truly didn't and I still don't. I still loved it, I sang it the way I wanted to."

Watch what CNN's Michelle Wright said about Megan Joy »
Despite all the bickering, Joy says that she and Cowell remain on good terms. After Wednesday's program, she says they both laughed and he told her that he enjoyed watching her.

Watch what CNN's Lisa Respers France thought of performance »
Furthermore, the self-described "dork" says her "American Idol" experience has opened new doors to her future.
"Before all this competition, I thought I was just going to be a stay-at-home mom," Joy said. "Now, I am interested to see all sorts of different things I could possibly try and dabble. ... I'm excited to just see what's out there."

And those bizarre moments onstage Wednesday when she flapped her arms and squawked like a bird? Joy says that's just her personality.
"I do a lot of sound effects all the time, bird noises, animal noises," she said. "Wednesday, I kind of had a feeling it was going to be me ... so I decided that I'm just going to be myself and be silly out there."
E-mail to a friend