By Todd Leopold
CNN





(CNN) -- The annals of late-night television talk shows are full of failure.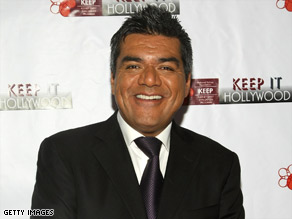 George Lopez says he believes late-night talk is ready for more diversity.
Joey Bishop, Dick Cavett and Pat Sajak all tried to challenge the legendary Johnny Carson's supremacy; all fell short. Joan Rivers lasted less than eight months as host of a Fox show; Chevy Chase lasted less than eight weeks on his Fox entry.
Even in recent years, when late-night shows are all over cable, few make a dent in the ratings or in the public consciousness.
So does comedian and former sitcom star George Lopez believe he can overcome those challenges and put on a talk show people will talk about?
To paraphrase a slogan Lopez heard plenty last year, when he traveled the campaign trail as one of Barack Obama's supporters: yes ... he ... does.
"I believe that that audience is more diverse, less represented than it's ever been," he said in a phone interview, noting that -- though it's been 20 years since the African-American performer Arsenio Hall launched his late-night show -- late night remains the preserve of generally white male comedians.
"It's not even about black and white anymore, because so many people are from mixed backgrounds and mixed ethnicities, and it's just a great time to be able to pull all that together."
Lopez, whose show will air on TBS beginning in November, is no stranger to talk shows. He was on Johnny Carson's "Tonight" show, and he admires David Letterman and Bill Maher, among others. But he thinks a Lopez show will bring some fresh energy to late night. (TBS, like CNN, is a unit of Time Warner.)
The comedian says he already has big plans to make his show distinctive, from its more open setting to Lopez's determination to make the audience a key part of the show. He talked about some of his hopes with CNN last week. The following is an edited version of that interview:
CNN: So I see you're doing a late-night talk show.
George Lopez: Yes, brother. Change has come to the White House, change has come to late night!
CNN: How did this come about?
Lopez: Well ... when I was doing "The George Lopez Show" -- probably into like the 30th episode, [and] we ended up doing 120 shows, [a production company executive] said, "Hey, would you consider a talk show?" And I'm like, "Dude, I got a gig."
He said, "It's not going to last forever. When it's over ... [So] let me put this bug in your ear, five years early."
I kinda never considered it, although ... I've been on every show. And what's appealing to me now ... is that I believe that that audience is more diverse, less represented than it's ever been. ...
I can take a little more liberties than if this show were on network TV, where everybody's afraid to say something wrong because you might piss off an advertiser. [And] I believe the fact that a Mexican-American guy hosting his own late-night talk show is appealing to advertisers. I look at that as a positive.
Look, Anderson Cooper is at the Mexican border -- I wish my show were on tonight so I could talk about it.
CNN: Does it intimidate you getting a late-night talk show? Lord knows there have been a zillion late-night talk shows, and many of them end up in TV graveyards.
Lopez: I think it goes case by case, Todd. I mean, Chevy Chase probably wasn't the right person for that format ...
I think the visibility of my [sitcom] and the success and popularity of my standup, and being a little edgier and a little different and not milquetoast by any means and not Anglo white male, and being unafraid and seeing the change [will help]. ... I think it helped me to campaign with Barack Obama for a year. ... I know what's out there, and I know that that audience is not served, and cable TV is a great place to attract those people.
CNN: The press release mentions a "street-party atmosphere." Have you had a chance to work through that a little bit and decide what that means?
Lopez: Absolutely. We shot a production pilot ... [and] what we did was we created an amphitheater outside at Warner Bros., right where they shoot "ER" where the ambulance entrance is. We built a set there, and I used Shakira's band led by [her musical director] Tim Mitchell. ... We didn't use seats, we used kind of an amphitheater feel, and since we shot it out on the street, it did have a different feel. ...
With a younger audience and the music, [it] made it more exciting and a little different with me as host than I think than what's on late night now.
CNN: You mentioned having Shakira's band. Is that going to be a regular feature? Is there going to be a sidekick?
Lopez: I'm not going to do a sidekick, but I'll use audience members, so I'll have potentially 360 sidekicks if I see somebody who's really interesting.
One of the aspects we used in the pilot was having audience members actually ask questions from their seat -- not from a preset microphone, but from their seat. ... That's a part of it that I think is different and fun, and I don't want there to feel like you're at a movie, where you're just watching a show. I want you to feel like you can potentially be part of it.
Like I told somebody before, if you go to a flea market or a swap meet, you'll find anything you want, but if you go to a store that's a high-end department store, you're only going to find what they have.
So being a poor guy growing up, and getting stuff from thrift shops growing up, I'd like to think that this will be the flea market of late-night talk shows, that you can probably find anything there.

E-mail to a friend

All About George Lopez • Talk Shows • Barack Obama • Shakira